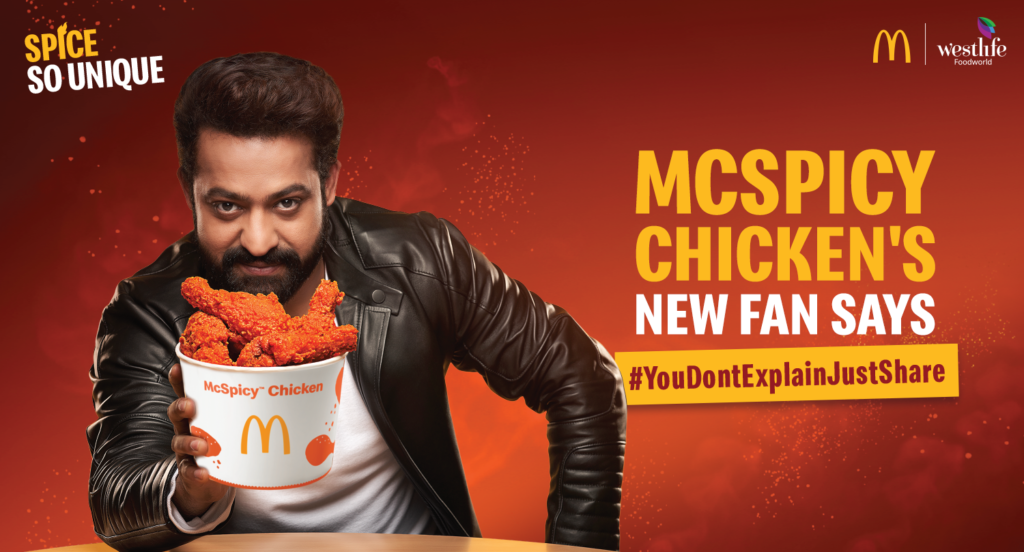 You are likely to never hear that someone dislikes fried chicken. Yes, almost every single being on this planet who has tried it is a fan—a huge fan. And, if we go a step further, there is the irresistible McSpicy™ Fried Chicken. Ah, even just thinking about it makes your mouth water, doesn't it? Crispy, juicy, and spicy till the very last bite. It's impossible to stay away from!
What if we told you that it gets better?
Guess what, things are going to get even more exciting—so exciting that you might break into the Oscar-winning 'Naatu-Naatu'!
Joining the mania of the McSpicy™ fried chicken is, hold on, take a seat before you read further… the mega-talented Young Tiger of Tollywood. Yes, yes, yes, it is none other than NTR Jr! That's right, the superstar who has mesmerized the world far and wide has been charmed by the spicy fried chicken of McDonald's.
It is hard to believe, isn't it? We know, and that's why you should hear it from the man himself.
Only he could light a match from a mustache and make it day from night! Well, that's the power of the McSpicy™ Chicken Sharers.
The spicy fried chicken now comes in a bucket that you can share with your buddies, and remember, as the superstar said, "it's a spice you #DontExplainJustShare."
You will be at a loss for words when you bite into the crunchy, thickly coated exterior that reveals a succulent, soft interior that remains spicy to the bone. All you have to do is let others join you in experiencing the explosion of deliciousness.
As yummy as it is, it is also part of the Real Food Real Good menu. Only high-quality, real ingredients are used in preparing this rich treat, and no artificial colors, flavors, or preservatives have been added.
That's awesome, right? But we have something else that's equally wowing. Drum roll, please, because the superstar has expressed how he feels about joining the McDonald's family. NTR Jr.said, "I'm happy to join McDonald's (W&S) as their brand ambassador for McSpicy™ Chicken Sharers! It is an iconic brand that resonates with millions of people across the world, and to be a part of this journey feels amazing. I have always believed in collaborating and sharing, and the McSpicy™ Chicken Sharers speaks volumes about this spirit – #DontExplainDontShare."
It's a bucket full of insanely spicy and awesomely delicious McDonald's spicy fried chicken that is going to create a bucket full of memories. So, grab your homies for an unforgettable meal. The McSpicy™ Chicken Sharers are available in the south of India. So, 'Naatu-Naatu' your way into a McDonald's near you. This super duper spicy fried chicken can also be ordered from the McDelivery® app or the McDelivery® website. Interesting deals and discounts are also there on the McDonald's app, so do download it.