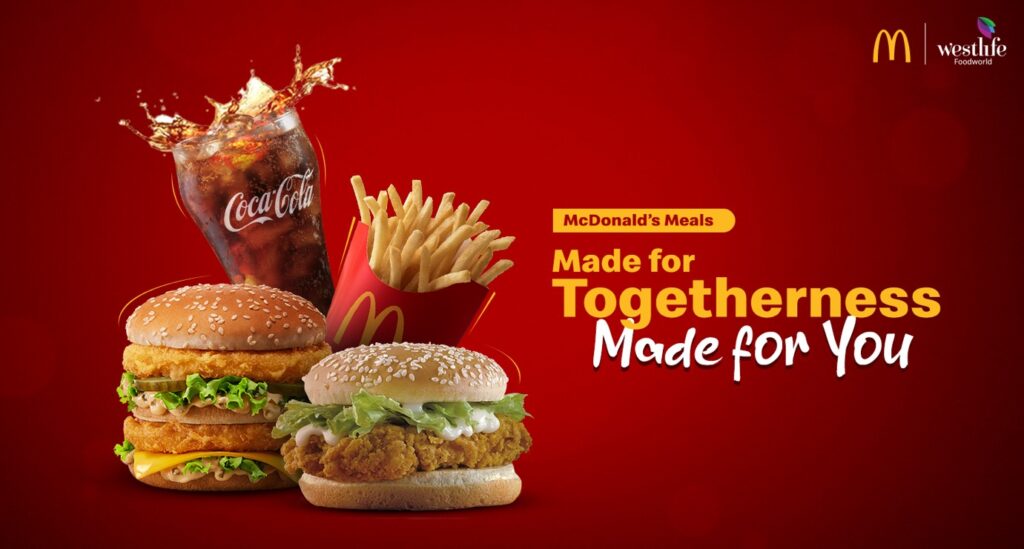 When the hunger strikes you and your tummy growls, don't let it win. There are times when a simple snack is just not enough and you're left wanting for more. For all your hard work, you deserve a whole meal to yourself. And ain't no meal like a McDonald's meal!
The sheer range of options in the McDonald's meals will keep you excited. The McDonald's meals usually come with a side of the classic French fries and a tasty beverage. The McSaver chicken meal and Big Mac meal are classics like no other. A well rounded meal is always a happy meal. Speaking of happy meals…
You've been left alone to take care of your younger siblings or your cousins at home. The only way to keep up with them and match their energy is by ordering the McDonald's Happy meals. The Happy meals usually come with an engaging toy, but now also come with an informative, and fun book series. The meals come with multiple options like the McChicken, McVeggie, McEgg and McAloo Tikki happy meal with a healthy mixed fruit beverage.
Long summer days call for hours at the swimming pool. Get the McSaver Piri Piri McSpicy Chicken Burger Meal for a hearty meal that pits the spicy, fiery burger against the backdrop of the chilly pool.
Feeling down with the blues because vacation time is coming to an end? The McSaver Triple Cheese Chicken Burger Meal will take your mind off its troubles with its cheesy goodness on every bite. Would you let your friends take your fries? I guess we'll find out.
McDonald's is always there for you. When the never ending day at work finally gets over, take a well deserved break with your work buddies at McDonald's. We've got just what you need to recharge after a long day.
Those evening walks with your grandparents can surely work up an appetite. Recharge their batteries and yours with the timeless McSaver McVeggie Meal, McSaver McAloo Tikki Meal, or the Big Mac meal for an easy and fun dining experience.
If you are preparing for exams, do try out the McSaver Chicken Maharaja Mac Meal, which promises to give you the boost that you need to pull an all-nighter and cram all of your syllabus.
When the time comes for striking hunger back, choose McDonald's meals from an outlet near you. Experiment with different meals, like the McSaver chicken meal, Big Mac meal by ordering from the McDelivery® app or the McDelivery® website. Get lucky with offers and discounts on the meals by downloading the McDonald's app.