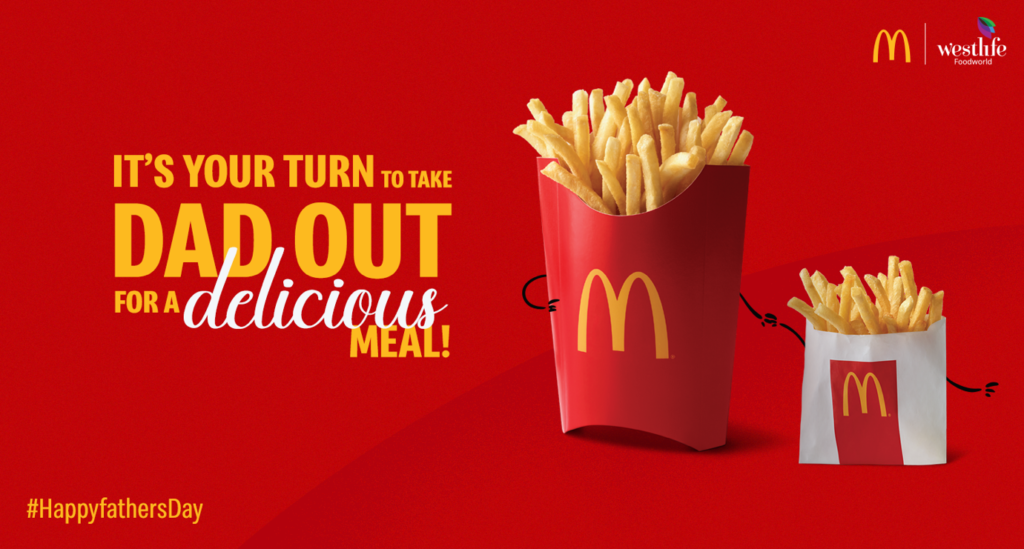 "Any man can be a father but it takes a special someone to be a dad."
Tying your shoelaces, dropping you off at school, giving you your allowance, teaching you how to ride a bike, and buying you snacks even when mom said not to. Aren't these some of the fond memories you have of your dad? Dads tend to speak more with their actions than their words. That is why you might not have realized the protective shield around you all this time. He may have done everything quietly, but he was with you through it all. In fact, it was probably his idea to take you for your first meal at McDonald's. And maybe it was him you went to when you didn't know how to set your Happy Meal® toy!
McDonald's wishes you a very happy Father's Day! May your bond with your dad only keep strengthening. This day provides a great opportunity to ponder over, appreciate, and admire all his sacrifices, dedication, and limitless love for the family.
This Father's Day, why don't you spend the whole day with him? Get him a gift, talk to him about his favorite movies, sports, and books, and a meal at McDonald's would be fantastic!
This time, you pull open the door for him, read out the menu, ask if he wants extra fries, stand at the counter, pay the bill, and carry the meal to your table. It will be just like before!
Create yet another fond memory with your precious papa with yummylicious meals:
Classics are always a great way to reminisce about the good old days. You can go in for a Filet-O-Fish Burger and a McChicken® Burger.
If there is a match going on, then cheer for your team with a Grilled Chicken & Cheese Burger and a McSpicy™ Paneer Burger.
Keep the conversation going with finger foods like Fries, Veg Pizza McPuff®, Chicken McNuggets®, and Cheesy Veg Nuggets.
Don't forget the drinks though! Make dad try the latest McCafé® beverages, such as a Sweet Lime Cooler.
For a sweet selfie moment, a Black Forest McFlurry™ and a McFlurry™ Oreo will be wonderful!
No one can replace your father's love for you. For the role he has played, no one could have done it better. So, keep making more memories with a delicious meal at McDonald's. Visit your nearest restaurant or celebrate this day with your Dad, see him enjoying a grand McDonald's meal at the comfort of your home by ordering in from the McDelivery® app or the McDelivery® website. Use code GOFREE to get free delivery. For offers on best family meal deals, download the McDonald's app.
Happy Father's Day again!