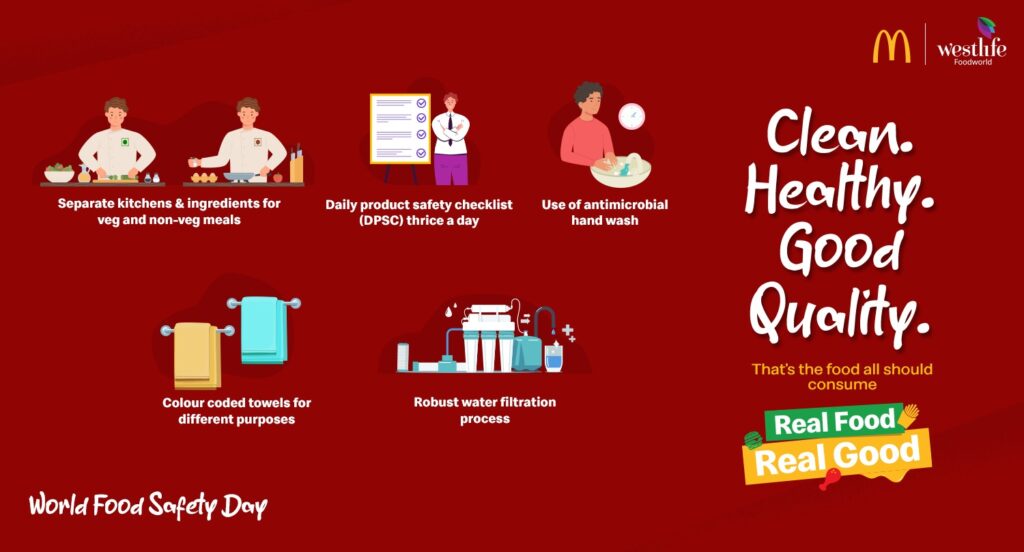 Food safety is the discipline of handling, preparing, and storing food in ways that ensure the food consumed by customers are safe. In light of educating people around the world about the importance of food safety, the World Health Organization (WHO) and the Food & Agriculture Organization (FAO) have designated June 7 as World Food Safety Day.
This year's theme is "Food Standards Save Lives". And, at McDonald's, we wanted to celebrate World Food Safety Day by raising awareness among the young McDonald's fans by conveying to them that their favorite restaurant maintains safety food standards. We recently hosted an activity session for almost 450 children in batches of three at McDonald's, Atria Mall in Mumbai.
It begins with a kitchen tour, where the students are shown that there are separate kitchens for vegetarian and non-vegetarian food. Then we made them aware about the Daily Product Safety Checklist (DPSC), which happens three times a day to make sure that the food served to customers is fresh and has safety food standards. We also ensure the temperature of all the kitchen equipment so that good-quality, hot food is served.
Another aspect of safe food preparation is cleanliness. That is why handwashing is compulsory every hour. The children were made aware that we use antimicrobial handwash to ensure that we serve safe and bacteria-free meals.
Different towels are used for different purposes. A single towel is used for each round of preparation. The towel is color-coded to indicate differences, such as red for non-vegetarian, green for vegetarian, and blue for cleaning non-food surfaces.
Another aspect is the filtration process. The excellent water filtration process is shown where the filtered water goes to the drinking water tap, ice machine, Coke machine, etc. and is used for making all the beverages on the McCafe menu.
We then move on to some even cooler things. The students got to see the chiller and freezer, where there is segregation of veg and non-veg in the freezer too, and all perishable items are kept in the chiller, such as onions, tomatoes, lettuce, and soft serve.
We finally went to the most exciting activity for all: Product Assembly of Make your own Fries. The characteristics of the iconic French Fries such as golden brown, the flavor of milly potato, the need to separate the core and crust, and the need to be evenly salted, are demonstrated.
The next time you crave something yummy, stop by McDonald's for a tasty meal that meets safety food standards. Or, you can always order from the McDelivery app or the McDelivery website. For super cool deals and discounts, download the McDonald's app.