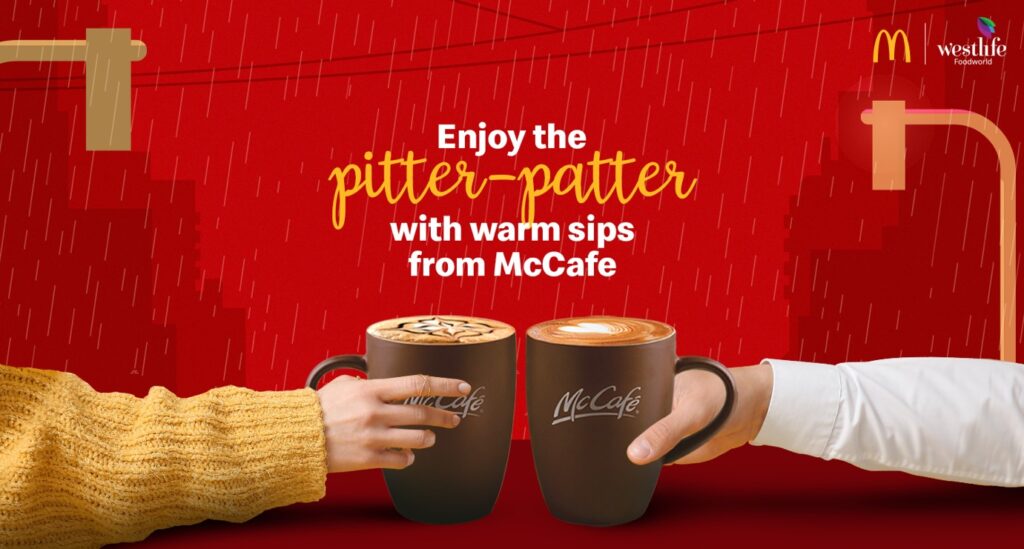 Ahhh monsoon is finally here! It's the season that stirs up friendships, romance and possibilities of young love in the dampened air. You might've seen it on the silver screen; long lost lovers and friends reuniting in the reassuring cover of rain. It's a season for the soul, everything is draped in crystal clear droplets that fall to the ground. The green in the trees is alive. There is no past or future, just the glowing stream of rain dropping one after the other, following the slight hand of fate.
A time like this calls for warmth and tenderness for your body and mind. The perfect season for steamy, hot beverages that warm you up from within. And McDonald's knows exactly what you need.
McDonald's McCafé® has a wonderful variety in its menu. This variety makes sure that people of different tastes and styles can come together to cherish these hot beverages.
A piping hot cup of Cappuccino is your perfect ally to get some much needed shelter from the storm. With a classic recipe that is for the ages, you're sure to be left satisfied and reaching for another cup! Start your work day with a large cappuccino. Or have them while choosing to stay in; wrapped in thick, woolly blankets with your loved one against the sounds of rain crashing onto your windows.
The Latte is for coffee lovers who can't do without their rich cream. The taste and the texture mingle in a delicious combination to guarantee joy. Share a cup of latte with your friends after a game of football in the rain.
Mocha is a fun drink that combines chocolate and coffee for a unique blend of taste. It is perfect for all day attention, which is great for those long study sessions.
The famous Hot Chocolate McDonald's was almost designed for chilly, dreamy, rainy evenings. A hot cup of cocoa is just what the doctor delivered. You can enjoy it in the company of your friends and family as you embark on game nights that stretch well into the night. Game nights are particularly fun when you can hear the rain all around you, from the balcony, and the smell of wet earth rising up as you savor your Hot Chocolate McDonald's.
All these drinks and many more await you on your visit to McCafé®. Don't forget to try these drinks out with the scrumptious muffins and chocolate chip cookies that McDonald's has to offer.
So this monsoon season, treat yourself and the ones you love right, with the hot beverages from McCafé®. These wonderful drinks are available for your enjoyment at all McDonald's outlets around you. Do take the time to try all of them out by ordering from the McDelivery®® app or the McDelivery®® website. You'll also find that it's raining offers and discounts on the tea, coffee, and best hot chocolate drink from McCafé® hot beverages on the McDonald's app.