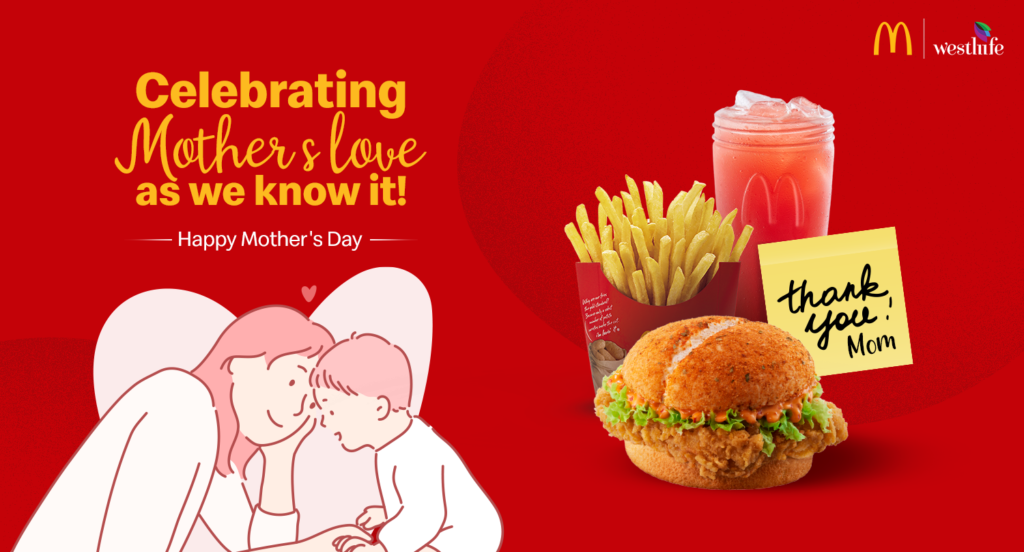 "A mother is she who can take the place of all others but whose place no one else can take."
What do you want for breakfast? When are you reaching home? How was your test? You have a fever, did you eat something cold? You have heard these questions many times as a child, haven't you? But these are the same words you will hear even when you get older. It does not matter when or where, a mother's love is unconditional.
McDonald's wishes you a very, very happy Mother's Day! We salute the countless sacrifices all the darling mothers have made and continue to make. We know that you want special moments with mom and we want to give you just that.
Make this day a chance to shower her with all the love possible. She took you to McDonald's for your favorite burger and fries, she also celebrated your fun-filled birthday with Ronald McDonald. This time it is your turn. She celebrated with you every achievement, no matter how big or small. It is time for you to celebrate her.
The McDonald's special menu has everything you need for a memorable time with your mommy dearest! Take a look:
For yummy cheesilicious mouthfuls with mummy, go for the McCheese Burger® Chicken and the Triple Cheese Chicken Burger.
Some Spicy conversations with mom have to be paired with Piri Piri McSpicy™ Paneer Burger and Piri Piri Big Spicy Wrap Paneer from the McDonald's special menu.
Listen to all the funny, silly, and happy moments from her childhood as well with the soft and creamy Cheesy Veg Nuggets and lots of Fries, Loaded Masala Wedges, and Chicken Strips.
Make your 'mommy and me' time loaded with the sweetness of McFlurry Oreo, Black Forest McFlurry, Chocolate Express Cake, and Blueberry Cheese Cake.
Be the source of her coolness in the scorching heat with the freshness of a Sweet Lime Cooler and a Green Apple Chiller.
There is no love like that of a mother and there is no one who can love like a mother. For this incredibly awesome person, drop by your nearest McDonald's outlet for a superb meal. If you want to create some more precious memories at home, order in from the McDelivery® app or the McDelivery® website. For deals, discounts, and more on McDonald's special menu, download the McDonald's app.
Once again, Happy Mother's Day!