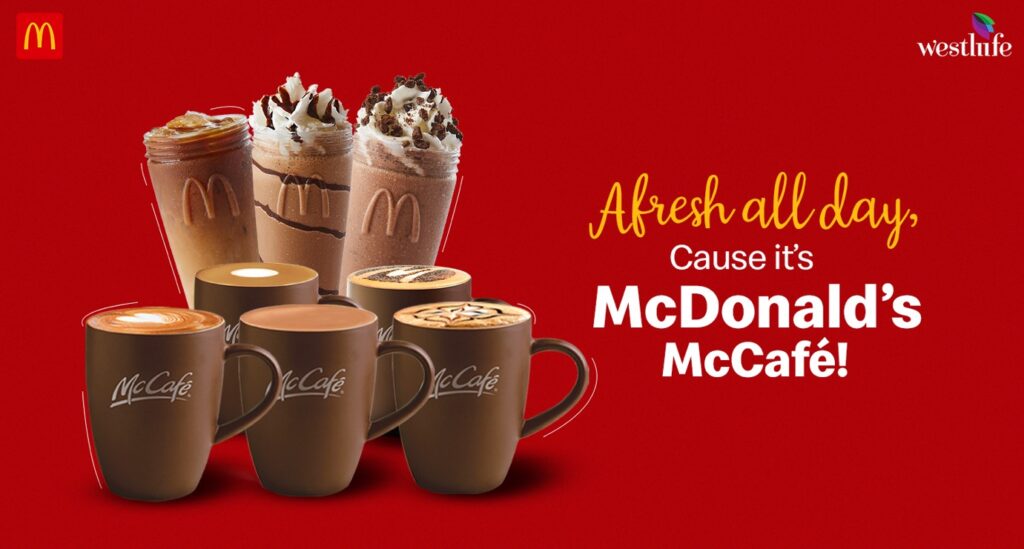 What does a day of McCafé® look like, you ask? It's designed to accompany you throughout the day. It's your perfect holiday companion, always supporting and cheering you up. Now that summer has started, you will love McCafé® more than ever because there are lots of super cool and refreshing options you can chill out with.
A morning pool visit under the tropical sunlight is always best with a Strawberry Shake, Mango Smoothie, or a Mixed Berry Smoothie. With the goodness of fruits and antioxidants, they go very well with your float. Follow it up with a McDonald's breakfast meal with a Veg McMuffin® and get all your proteins after a good swim.
For those who don't like to stray from the classics, the McCafé® Iced Americano and McCafé®- Ice coffee are here to bring the temperature down. Catching a breakfast with long lost friends calls for a special celebration of its own and the morning breakfast options at McDonald's are delicious as ever.
Chocolate lovers, we've got you covered as well. With the McCafé®-Chocolate Frappe, McCafé®-Mocha Frappe, Chocolate Shake, and American Mud Pie, get ready for a chocolicious summer to remember. On those long road trips with your buddies, music blaring through the speakers, make sure that there is a cup holder in that car, and that's got your favorite McDonald's beverage from McCafé®!
Summer also means that the time for year end examinations is here. At libraries everywhere, students are hitting those books and cramming up on knowledge. In these moments the sweet McDonald's chillers are like a drink from heaven. Take your pick from: Strawberry Chiller, Lemon Chiller, and Green Apple Chiller.
If you're done hitting the books, you're probably hitting the weights at the gym. Being a fitness enthusiast means that you are mindful of every calorie that you're consuming. McDonald's provides you a range of beverages to cool down and kick your taste buds back to flavor town. Also getting that shot of caffeine before your workout, helps you in your fitness regimen all that more. The morning breakfast options like the Veg McMuffin® also go hand in hand with McDonald's caffeinated drinks.
The IPL is also in full swing, with evening and night games. You can be sure to expect a few nail biting finishes that force you to stay up. Keep it cool with Berry Lemonade Splash Regular and the new Sweet Lime Cooler. To liven up your day with McCafé®, visit the nearest McDonald's outlet. If you are busy and on the move, get your order delivered whenever you might be with the McDelivery® app and McDelivery® website. You can also avail interesting offers and discounts on the McDonald's breakfast meal, morning breakfast options and Veg McMuffin® on the McDonald's app.