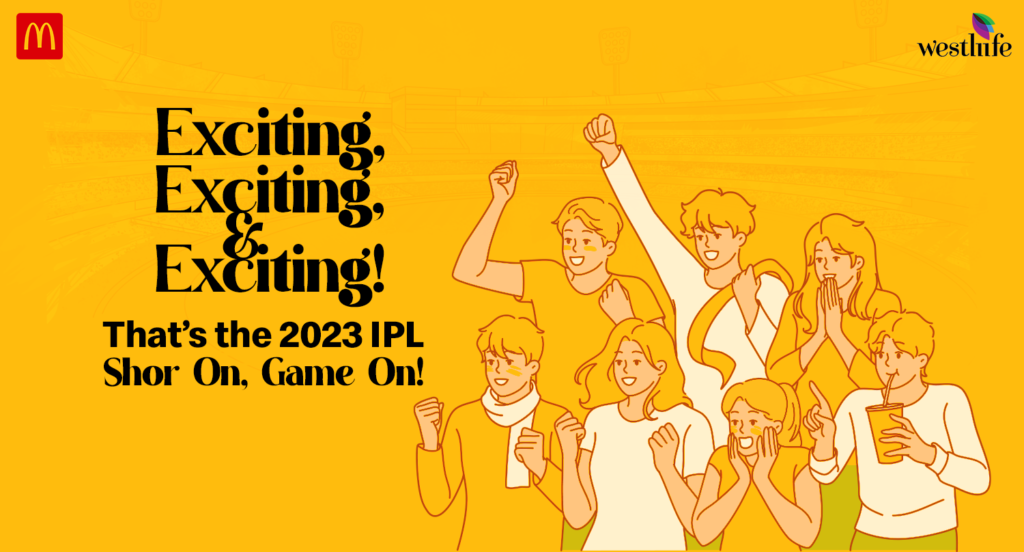 You can almost feel its presence before you hear it on your screens. Every istriwala in the street corner has it switched on, and works through the smell of blistering coals. Almost transforming his phone to a radio. In the trains, people form bonds, however fleeting they might be, by asking strangers for the score. And in houses, all around, where the elders and kids come together to stay glued in front of the screens.
The summer slam, Indian Premier League is here to stay. For the month and a half that it runs, it wholly captivates and entertains all of India. It's a time for friends and family to renew their interests and passions in the game that unites us all. The movie nights have been replaced by the IPL game nights and these ones keep you on the edge of your seats by not following a script.
So bring on the friendly banter and the cricketing stats to get the better of your friends. McDonald's is proud to serve you at your large screen viewings of matches with our spread of delicious foods. The McDonald's meal menu is packed with attractive offers so that you can get the complete package. The match day meals include classics like McChicken® meal, McVeggie® meal or if you're in the mood for some snacky finger foods, you can go with the Chicken McNuggets® meal.
Our IPL special food menu is sure to keep you satisfied for those long, exciting hours in the case of a super over. The McDonald's meal menu is perfect for an uninterrupted viewing experience with your buddies.
Which one of these is your way of cheering?
Play bold with the McSpicy™ Chicken Burger.
Duniya Hila Denge Hum aur Piri Piri Fries Shake Bag bhi.
Orange or nothing, except maybe McDonald's Pizza McPuff®.
This is New Delhi but with the same ol' goodness of McDonald's McAloo Tikki Burger®.
Korbo Lorbo Jeetbo Re, the fight against boring matches with a McCafe®-Mocha Frappe.
Whistle Podu and snack on Mexican Cheesy Fries.
Halla bol aur Big Spicy Chicken Wrap khol.
Aava de with the McCheese Burger.
Ab Apni Baari Hai for enjoying McDonald's newest Piri Piri McSpicy™ range.
Live Punjabi, Play Punjabi and Eat royal with Chicken Maharaja Mac®.
Enjoy these tasty treats and match day meals at your nearby McDonald's outlet. Or get them delivered to your home, office, or screening centers with the McDelivery® app or the McDelivery® website. To avail stunning deals and discounts on the McDonald's meal menu, download the McDonald's app and spread the joy around during the season of cricketing bonanza.