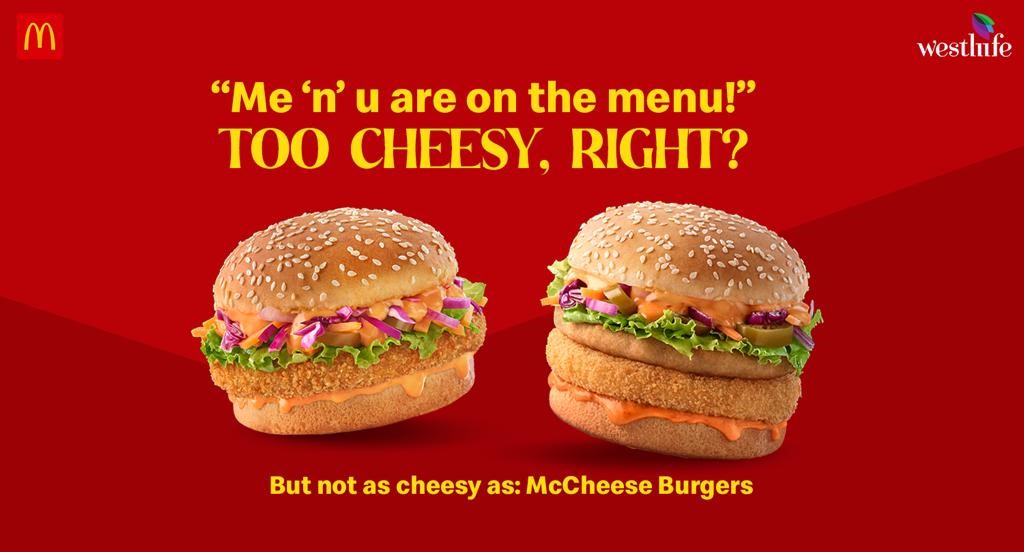 We all have that one friend who can't help but fill our day with cheesy lines. No matter what the situation is, they never run out of cheesiness. Words that'll make you cringe, long after they've said it. Fear not, for there is a new cheesiness in town, one that is loved and welcomed by everyone.
Presenting McDonald's cheesy delights from the chef's special gourmet burgers. A proven classic, the Triple Cheese American Veg Burger is overloaded with the good kind of cheesiness, lip-smacking taste. Be sure to keep a tissue handy, because the attack from the Triple Cheese American Veg Burger is something else. Cheddar cheese is here to stay and how!
Think of the cheesiest thing you have heard. Now we have something that can beat it, but in a good way. The Cheese Corn Burger and the Grilled Chicken & Cheese Burger have some of the most inviting textures in a bite. With the combination of tender, juicy corn and melt-in-your-mouth cheese, you can't possibly prepare yourself for that delicious explosion of flavor.
All kinds of cheesiness can be forgiven with the classy, elegant McCheese Burger®. We know how much everyone loves patties bursting with cheese lava, so naturally the McCheese Burger® Veg and McCheese Burger® Chicken are beloved items on the menu.
The second-hand embarrassment you feel when your friend tries any of their cheesy lines is immense. But McDonald's is here to save the day. With the Triple Cheese American Veg Burger and the Triple Cheese Chicken Burger, it takes you on a cheesy escapade, one you can't get enough of.
All you need is a generous helping of cheese and that's what you'll get. The only thing you might find that is cheesier than your friend is McDonald's range of cheeseburgers. The richness of premium ingredients cannot be mistaken for any other and so is the experience. So, don't wait any longer to indulge in the cheesy classics of McDonald's gourmet burgers. To get McDonalds' help when you're stuck in a cheesy situation, visit any of the multiple outlets near you. You can also get it home delivered to wherever you might be, with the McDelivery® app or the McDelivery® website. Get yourself offers and discounts on the Triple Cheese American Veg Burger, Cheese Corn Burger and the McCheese Burger® Veg by checking the McDonald's app. Are you lovin' it, yet?