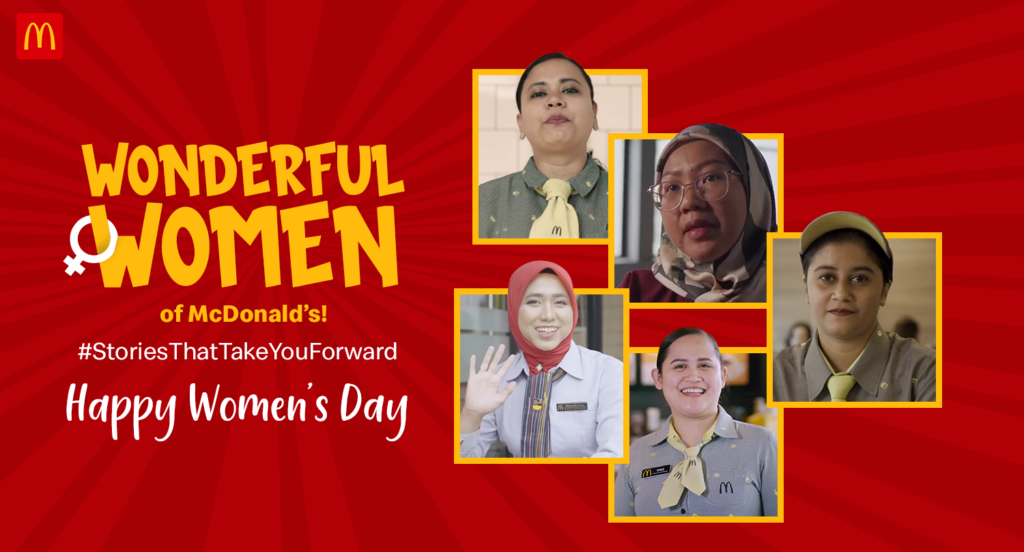 "Where there is a woman, there is magic."
March 8 has arrived, and McDonald's wishes you a very happy Women's Day! We hope that every woman finds her strength, her confidence, her independence, and, most importantly, that she truly finds herself. The world is hers; all she needs to do is take a leap of faith!
Here at McDonald's, we believe in equality and providing equal opportunities for all. For this year's International Women's Day, McDonald's wanted to take a different approach. Instead of conveying inspirational stories, we asked the inspirational women themselves to take the stage. The theme of this endeavor is ''Inspiring Women, Inspire Women."
The social media campaign is focussed on #StoriesThatTakeYouForward, where we share stories from some really phenomenal women who have made a remarkable mark at McDonald's. And guess what? We are going global. These are real women, telling real stories in their real voices. Their dedication, passion, and perseverance have not just had an impact on their lives but also on those around them.
This initiative involves women from different countries, such as India (S&W), India (N&E), Philippines, Brunei, Indonesia, Vietnam, Taiwan and Thailand. They give you a window into their backgrounds, aspirations, expectations, and so much more. They also talk about how working at McDonald's has given them the space to grow, thrive, and taste success.
The McDonald's Instagram handles from each country show a reel and a byte-sized Instagram story. Every post tags and passes the torch from one female employee to the next.
Let's start with Mumbai, India's very own Noor Jahan. Hear from her on her incredible journey from being employed to pay her college tuition to becoming an RGM!
https://www.instagram.com/reel/CpbxwZqo4MD/?igshid=YmMyMTA2M2Y=
All the way from the land of beautiful beaches, the Philippines, Emma Berces has an inspiring story to share with you. She is a leader who began working in 2006, and in her almost 17-year legacy, she has been recognized and awarded as one of the best RGMs in the profit center.
https://www.instagram.com/reel/Cpb5uX4PI46/?igshid=YmMyMTA2M2Y=
Next up, we have Izzah, aka Jude, from Brunei. She started her journey with McDonald's in 2008 and worked in multiple facets of the organization in terms of important decision-making, administration, supply chain, registrations, and so much more. Take a look!
https://www.instagram.com/reel/Cpb6V5TuuYN/?igshid=YmMyMTA2M2Y=
From the island country of Indonesia comes another precious member of the McFamily, Nita, with her amazing story.
https://www.instagram.com/reel/Cpb9PlWgadA/
With another heartwarming story from India, Samiksha Tiwari from Lucknow is here to inspire you. She recalls her glorious 16-year journey at McDonald's, starting out as a crew member and eventually becoming an RMG.
https://www.instagram.com/reel/CpcbXF8tjr4/?igshid=YmMyMTA2M2Y=
Let's keep the empowerment and inspiration going throughout the year! More power to all, more inspiration to all.
And when in need of an utterly amazing meal, you know the drill. Head over to your closest McDonald's restaurant. If you prefer to relish your food at home, get it delivered from the McDelivery app or the McDelivery website. To enjoy deals, discounts, and more on your order, download the McDonald's app.