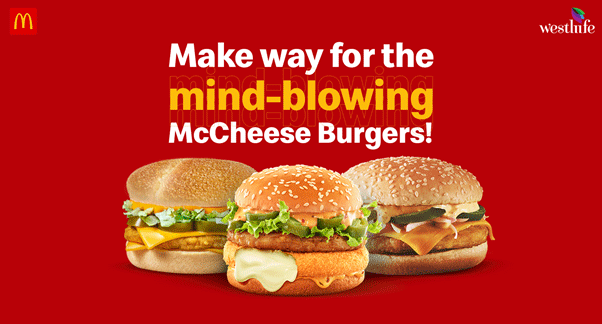 There is one absolute favorite when it comes to dairy products. Is there anyone who does not like cheese? It is such an irresistible ingredient! Every time cheese is added to a dish, it starts tasting a million times better. Obviously, the soft, creamy, and rich goodness is bound to do wonders in the culinary world. Speaking of food and favorites, McDonald's instantly comes to mind, does it not? And the McDonald's menu has a very special place reserved for all the cheese lovers! Yes, the way that this special element is crafted into meal options is almost magical. The chef's special gourmet burgers have some amazing choices that have been created with the best cheese for burgers and score the highest on the tasty meter.
The McCheese Burger® Veg and McCheese Burger® Chicken are simply beyond words, but let's try to fill you in on how awesome they are. The McCheese Burger® Veg comes on freshly toasted buns with layers of lettuce, jalapenos, shredded onion, roasted chipotle sauce, and a very loaded and oozing cheesy veg patty. McCheese Burger® Chicken presents itself with freshly toasted buns that are layered with lettuce, jalapenos, shredded onion, roasted chipotle sauce, an oozing cheesy veg patty, and a flame grilled chicken patty.
Fresh vegetables, soul-tingling sauce, toasted buns, and, oh, the patties bursting with the best cheese for burgers that erupt like lava. Is this a burger or an art performance? It is as if you will experience the genius of a symphony in your mouth!
The McCheese Burgers fullfill the satisfaction of every cheese enthusiast. As much as you feel that cheese is all you need, pair your burger with sides, drinks, and desserts to enjoy a complete meal. Get your favorite fries and soft drink, such as Coke, Fanta, or Sprite. You can also choose your beverage from: Banana Caramel Shake, Berry Lemonade Splash Regular, Green Apple Chiller, Strawberry Chiller, McCafe Iced Americano, Lemon Chiller, Chocolate Shake, Strawberry Shake, McCafe-Ice Coffee, Mango Smoothie, Mixed Berry Smoothie, McCafe-Chocolate Frappe, and McCafe-Mocha Frappe.
Show your devotion to cheese with an explosion of cheese-filled McCheese McDonald's burgers. Visit your closest restaurant for a scrumptious feast. Or, you can get your meal delivered to your doorstep from the McDelivery® app or McDelivery® website. Download the McDonald's app to avail offers, deals, discounts, and more on your orders.