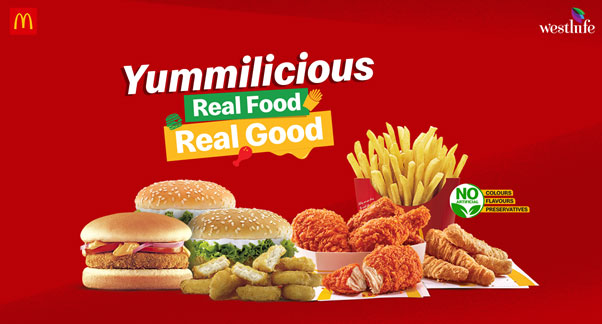 The human experience has evolved so much. Every day there is a new discovery, and every day there is a new invention. And this applies to food as well. Gosh, there is no end to the flavors that we get to enjoy each day. It becomes even more awesome when this awesome taste comes with a balance of quality. And to give to a feast of exactly that, the India McDonald's menu has exclusive items that give you real food that is real good.
Yes, this menu is not just yummy but is also made with real ingredients! Amazing, right? It is prepared with absolutely no artificial colors, artificial flavors, or added preservatives. So, it's real ingredients that make for really tasty treats.
Let us walk you through the real food which are Artificial preservative, Artificial colour & Artificial flavor free, that is sure to become a favorite among many!
McDonald's burger patties – the WOWlicious element with which a burger can't exist without!
McSpicy™ Fried Chicken – this heavenly spiciness will have to say "OMG! Get me another one!"
Masala Wedges – A masaledar makeover of potatoes that is super duper yum!
McDonald's Fries – it needs no introduction because it's the beyond ideal snack to much on.
Chicken McNuggets – it's delish and literally *chef's kiss*!
These finger foods are great as side dishes, party snacks, picnic snacks, movie night nibbles, tea time munchies, and even as meals for boredom-induced hunger.
Here are the Artificial Colour & Artificial Flavour free menu items:
McVeggie – With fresh vegetables and Indian spices, it's a classic that has won everyone over.
McChicken – Love for chicken crafted into a burger, it's the ultimate wiper of hunger!
Aloo Tikki – This desi spin on a western delicacy hits home like no other!
The principle of making conscious choices when it comes to food extends to the rest of the menu as well. All the ingredients that go into making your McDonald's menu veg and favorite burgers are sourced from the very best farms, fields, and facilities across India. The chicken used for McSpicy™ Fried Chicken in India McDonald's menu undergoes 64 unique quality tests before it is allowed to be prepared. Additionally, the Allergen & Nutritional Information for all items on the menu is available both in store and online.
It is time to make mindful choices with real food that is real good. Be it McDonald's chicken menu or any other quick vegetarian meals, you know where to go. So, drop by your nearest McDonald's outlet for deliciousness that comes with zero artificial colors, artificial flavors, or added preservatives. You can also get your meal delivered to your doorstep from the McDelivery® app or McDelivery® website. For offers, deals, and discounts on your order, do download the McDonald's app.