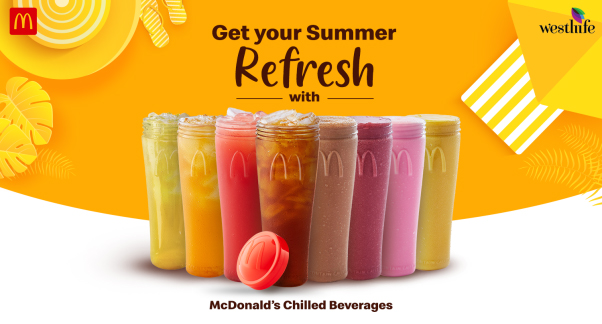 That time of the year has arrived when the days are getting longer and sunnier than usual. It is so bright that you can't look outside or at the sky without squinting your eyes, right? And let's not forget how easily the throat gets parched! Staying cool and hydrated becomes everyone's goal for the season. Tea gets replaced with juice for the guests, and it almost becomes compulsory for the ACs, coolers and fans to provide some comfort.
There is another way to stay cool. Grab your favorite McDonald's chilled beverage! Yes, McDonald's drink menu offers both thirst-quenching and soul-satisfying chilled beverages. The McCafé® shakes and coolers are crafted with the perfect balance of flavor and iciness. When the coolness washes over your taste buds and finally soothes your throat, it's nothing short of heavenly!
Apply your sunscreen, grab a sun hat, sit back, and sip on the much-needed freshness for the season.
Experience strawberries and blueberries in a drink that's spectacular,
With the replenishing Berry Lemonade Splash Regular!
Want to relax and also have a killer time with friends?
Then grab a Strawberry Chiller, Green Apple Chiller, or Lemon Chiller!
Get your caffeine fix and stay cool without a worry,
as there is McCafé® Iced Americano and McCafé®-Ice Coffee for you buddy!
Looking for the perfect way to catch your breath and take a break?
What's the wait, grab a Chocolate Shake or a Strawberry Shake!
A refreshing drink full of chocolate is sure to let out a sigh,
when you have a tall glass of American Mud Pie!
Blend to perfection to set your mind free
is the aim of the Mango Smoothie and the Mixed Berry Smoothie!
Another round of magic from McDonald's drink menu at McCafé®,
With the delightful McCafé®-Chocolate Frappe and McCafé®-Mocha Frappe!
Embrace the company of a McDonald's chiller and feel free to soak in the summer sun. Relish your drink at a McDonald's restaurant near you. If you feel like leaning back, lengthening your legs, and enjoying your drink at home, that's cool too. You can get it home delivered from the McDelivery® app or McDelivery® website. Your beverage will reach you in a reusable and convenient EZ bottle. For more offers on McDonald's drink menu and more, download the McDonald's app.