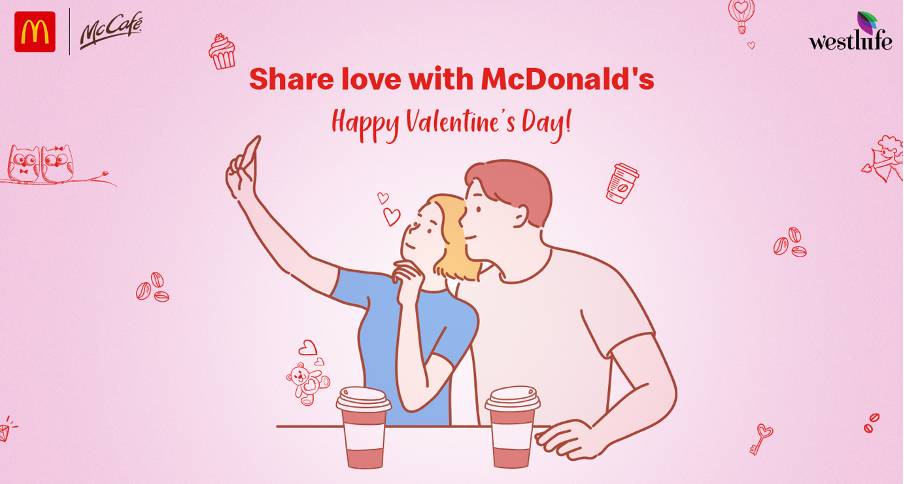 Wow, today feels so wonderful! There is excitement, anticipation, and the urge to pick out a red outfit? You have butterflies in your stomach for someone who has your whole heart, right? Well, cheers to that and a very, very happy Valentine's Day for everyone out there! It's that day when you see teddy bears holding love confessions and rose bouquets, and you just want to paint the world a romantic shade of red. Everything is so awesome blossom and the only thing that would make it better is a McDonald's meal with McDonald's combo offers for you and your Valentine.
You never know when and where you will find someone special, but know that McDonald's is always there to create unforgettable moments. We had already had a conversation about McDonald's McCafé® being the ideal place to take your Valentine. If you did not get a chance to read it, then here you go: https://mcdonaldsblog.in/2023/02/celebrate-love-at-mccafe-asevery-coffee-is-a-story-in-the-making/
Every cup of coffee has a story, and many times it is one that brews love. In extension of this sentiment, McDonald's presents its Valentine's Day special Brand Film. Andy, who is visually impaired, accidentally bumps into Riya while she is trying to pay for a book. Opps, apologies, and voila, fate leads them to McCafé®, where a new love story just might be brewing for them. Who knew that a roadside bookstore would be the place where a new chapter in her life unfolded? "Sometimes things are more than what meets the eye. All you got to do is give it a try." One can never tell when unexpected meetings and accidental encounters are just moments brewing into something magical, and McDonald's is just around the corner to make it happen.
All kinds of wholesome, isn't it? Have a look yourself:
Show your love for your beloved at your favorite restaurant! Sounds like a perfect plan, right? The McDonald's combo menu and McCafé® coffee drinks are made for special moments that you and your plus one can have together. It is everything you love with the one you are in love with. A love story is created with the same care, affection, dedication, and devotion that a cup of McCafé® coffee is. Each small step culminates in a delicious cup full of love. Take a look at how your love story and coffee can be brewed together:
For the newlyweds' first date – Cappuccino
For the super busy workaholic couple who have squeezed some time out just for love – McCafé® Americano
For the high school sweethearts who are so in love that the upcoming final exams don't scare them – McCafé®-Chocolate Frappe
For the elderly couple whose love is still fresh and young – McCafé®-Ice Coffee
When self-love is in the air and you are your one true Valentine – Mocha
Don't leave any stone unturned when it comes to expressing your love. Did you know that the McDonald's Cappuccino comes with connecting hearts stencil art that is especially crafted for this occasion? To make things better, it comes with a one-plus-one offer. Let your heart eyes translate into your coffee as well!
Food is such a universal, brilliant language of love that is even more beautiful when shared. Bring your special someone to McDonald's for a special meal from McDonald's combo menu. You can always get it home delivered from the McDelivery® app or McDelivery® website as well. For more McDonald's combo offers, deals, and discounts, download the McDonald's app.
Happy Valentine's Day!