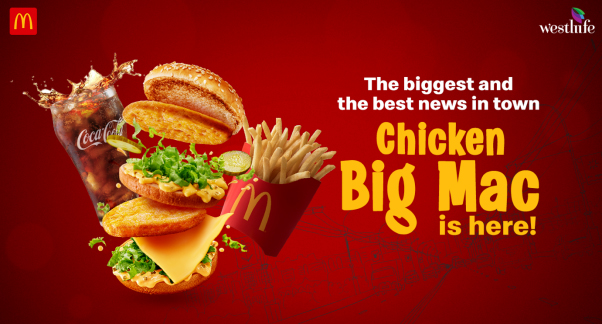 There are certain moments and incidents in life that are simply unforgettable. They have such a big impact that one cannot just shake them off. For some, it could be when they fell in love; for others, it could be their first solo trip; and for many, it could be a dish they tried for the first time and absolutely fell in love with! Yes, food occupies such an important place. Not just in terms of satiating hunger and meeting nutritional needs but also in terms of satisfying the soul. And one such food that has all the potential to capture your life in a massive way is the Chicken Big Mac® from McDonald's.
If you haven't heard already, you must know that this mega-popular American rockstar has impressed the Indian palate beyond measure. Its performance has been so brilliant that all other big names will disappear from your mind. The news of the season, the Big Mac® India, has gone a step ahead leaving people speechless. If you still don't believe it, then just ask Virender Sehwag what he is going through! People are hilariously unable to remember the ace cricketer's real name. Wow! But, but, but, you need to take a bite of the McDonald's Big Mac® meal and you'll know what all the fuss is about.
Chicken Big Mac® India is not just awesome because of its enormous size; the super-delicious taste makes it even more unbelievable! Multiple flavors of crispy chicken patties, shredded lettuce, cheese, sauces, pickles, and wheat buns. What makes this iconic burger even more striking is the fact that it is part of the Real Food Real Good menu. You won't find even a slight hint of artificial flavors, artificial colors, or artificial preservatives. It has eleven layers of goodness guaranteed.
One of the greatest joys of this world is food, and the Big Mac® India is an indulgence whose wholesomeness is difficult to grasp. All you have to do is relish it again and again to feel fantastic again and again. This world-famous burger may not fit easily in your hands, but your senses will compensate like no other.
You know exactly where to go to get your dose of super duper yummy food. Stop by your nearest McDonald's outlet for a soul-touching Big Mac® meal. If you want to dine at home, then no worries; the McDelivery® app and McDelivery® website are at your service. Do log into the McDonald's app as well for amazing deals and discounts on your order.