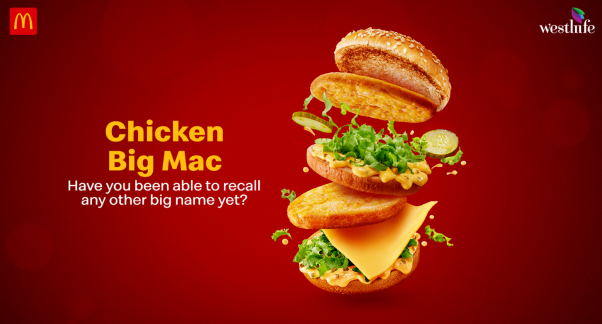 We do not know how your new year started, but here at McDonald's, it began with a mighty bang. 2023 made a launch so big that fireworks ought to be displayed across the sky. If you have not yet guessed, it is the launch of Chicken Big Mac®. It really rolls off your tongue with ease, doesn't it? The American cousin, Mac, has migrated to India and is settling in just fine. Isn't it a brilliant start to a new chapter in history, with a burger so big that you'll forget all the other big names? Just ask Virender Sehwag, the legendary former cricketer, how difficult it is for people to remember his name now!
The new Chicken Big Mac® could possibly be the definition of wholesomeness. But where does one begin to describe how awesome this massive treat is? The buns at either end may be soft, but the flavors they capture are beyond imagination. There is cheese, lettuce, pickles, a chicken patty, sauces, some more chicken patty, some more cheese, and an overload of yumminess that is honestly hard for words to describe. You have really got to try one for yourself. Do not let the size of the Chicken Big Mac® intimidate you, it may be difficult to hold but not difficult to stomach. Each bite transports you to your dreamland, and who wouldn't like that?
The next time you get hungry, think of the mouth-wateringly delicious eleven layers that never seem to end and yet you can never seem to get enough of. McDonald's Chicken Big Mac® is almost like a Pandora's box of tasty surprises that can't stop revealing themselves, right? It is the ultimate meal to devour when you are looking for soul-filling food. All you have to do to take the wholesome meter up a notch is get a beverage and a dessert, and your day couldn't get any better.
The Chicken Big Mac® is totally ready to replace itself with all the big names residing in your brain. If you don't believe it, then give it a try at your nearest McDonald's restaurant. Or, get your order delivered to your doorstep from the McDelivery® app or the McDelivery® website. If you are looking for deals and discounts on your meals, then do download the McDonald's app.