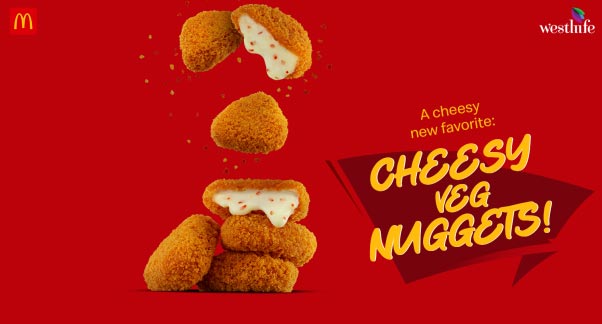 It still feels unreal that the new year has begun. The level of optimism is at an all-time high. New calendars, new diaries, fresh entries, new films, new shows, and new sports tournaments – but you're still writing the date wrong, right? There is just so much to look forward to, not just in the year but also here at McDonald's. After a banging start with the Chicken Big Mac, we have another treat in store for you! Yes, 2023 sounds even better now, does it not? If you are a cheese lover or a snack lover, or better yet, if you love them both, then you will love what is coming. McDonald's India is launching the Cheesy Veg Nuggets, a new addition to the delicious and snackable Real Food Real Good menu.
Once you know how wonderful the new McDonald's finger food tastes, there are high chances you'll experience "mouthwatering moments" for real, so hold on to a napkin. The veg cheese nuggets are seasoned with jalapenos and chili flakes and oozing with semi-liquid cheese. Its beautiful golden brown exteriors give it the perfect crunch, while the interior is bursting with creamy, soft cheese. It is the ultimate symphony of cheese and spice that exceeds all your expectations. The veg cheese nuggets are prepared without using onion and garlic, so they pair really well with the Piri seasoning, the classic Chilly Sauce, or even the Mustard Sauce.
Relish your McDonald's cheese nuggets with other snackables from the menu, like Fries, Mexican Cheesy Fries, Crinkle Fries, and Veg Pizza McPuff®. Pair it with a cool and soothing beverage for a filling treat. You can choose from McCafé® shakes and coolers: Berry Lemonade Splash Regular, Strawberry Chiller, Strawberry Shake, Green Apple Chiller, Lemon Chiller, Chocolate Shake, American Mud Pie, Mango Smoothie, and Mixed Berry Smoothie.
The McDonald's cheese nuggets are an indulgence you will not just like but also fall in love with. Give it a try at a McDonald's restaurant near you. Or, get it home delivered from the McDelivery® app or McDelivery® website. Check out the McDonald's app to avail deals and discounts on your orders.