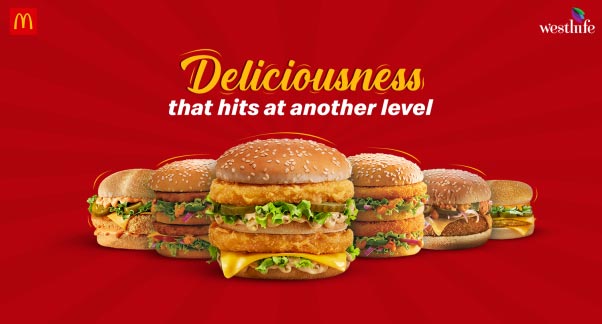 There are few things in life better than a fully stacked and loaded burger. The delightful feeling of wrapping your hands all around it. There's nothing quite like it. But more often than not, the burger fizzles out after the anticipation and falls flat. Not at McDonald's.
The burgers at McDonald's are carefully designed for an absolutely satisfying culinary experience. Cult classics like the Chicken Maharaja Mac® have over 10 layers of ingredients, with varying textures, flavors, and consistency to provide a mouthful. While most burgers have about 4-5 layers, the burgers at McDonald's have double the layers for double the excitement.
Our burgers are prepared with consideration for the many different palates and tastes of McDonald's beloved customers. With its exquisite and succulent patties of the highest order, the Veg Maharaja Mac® is a burger fit for royalty.
The Corn & Cheese burger has a distinct composition that combines the best parts of both for a tender and juicy center. Meat lovers should not feel left out, either. The Mc Maharaja Burger as a few call it, the Maharaja Mac Burger is available in both vegetarian and nonvegetarian varieties.
The McSpicy™ Premium is our variant for people who appreciate the fiery spices and the enjoyable burn they provide.
Our cheesy option for the cheese connoisseurs, the Triple Cheese Burgers, are brimming with cheese for a tornado of texture and flavor in your mouth, proving to be a real mouthful. It is best advised to have it with a side of tissues because it is most likely to be a wonderfully messy event. The burgers at McDonald's are packed with cheesy goodness and multiple flavors intermingling in a sea of fresh veggies and scrumptious meats.
Our new entrant, though, is set to cause the most sensation among McDonald's fans. The Chicken Big Mac® is a giant in its sector. A mega burger with the feel of two whole burgers is a visual and culinary spectacle. The Chicken Big Mac® towers over the rest in a manner where you'll be mesmerized by it and lose your chain of thought. Everything else fades into the background with the big mac taking center stage, not just in your minds and imaginations but also on your plates.
All of these burgers and more await you on the McDonald's app, which is your one-stop shop for all things McDonald's. So, what is your choice going to be—Chicken Maharaja Mac® or a Corn & Cheese Burger? You can also get your favorites delivered to your doorstep through the McDelivery® app or McDelivery® website. Stay in touch with the McDonald's app as well for offers, deals, and discounts you will absolutely love.