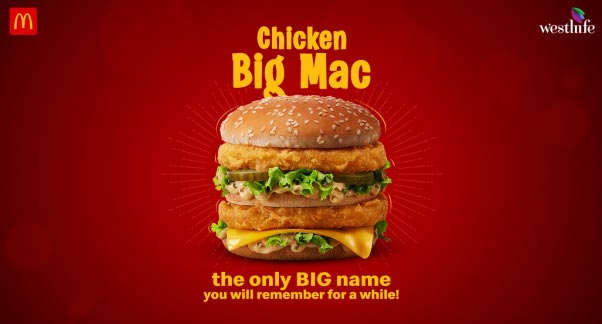 It is so hard to believe that an entire year just went by. But there is something really epic about the beginning of a brand-new year, right? Everyone is pumped with optimism and charting out what they want the year to look like for them. Plans are being made, calendars are being set, and that's when you know that you are off to a good start. We're going through a similar process here at McDonald's. As you know, a good start is half the battle, so we're going out with a big bang! Take a hint from the word "big," and there will be no need to guess what is going to unfold.
McDonald's is launching the first ever Chicken Big Mac® in India! This global favorite has tasted global success and is now here to amaze you. It is a burger so big that you will not be able to recall any other big names. It is true! The power of the new Chicken Big Mac® is such that ace batsman and former Indian captain Virender Sehwag could not help but get involved. People started forgetting his mighty name. McDonald's was not an exception either. The McDelivery® app sent a notification saying, "Vasu's Favourite Coming Soon," which baffled the cricketer, who tweeted McDonald's India asking #WhatsHappening and that his name is "Virender Sehwag". Everywhere he went, the Big Mac with Chicken caused people who once knew him well to forget him. It surely drove him crazy! Check it out.
Well, what can we say? It is a launch so big, of a burger so big that everything else, no matter how big, fails in comparison. The eleven layers of tasty, thick chicken patties, sauces, pickles, shredded lettuce, give you such a fabulous and indulgent treat that it will be the only thing you will be lovin' for a while. What makes this burger even more brilliant is that it is part of the Real Food Real Good menu with its quality ingredients and no added preservatives, flavors, or colors. Now, is your mouth watering, your eyes blurring, your palms sweating, your knees weakening, and your stomach roaring? That's how this legendary Chicken Big Mac® shocks and rocks.
It is time to forget all the big names you know and just focus on one awesome BIG thing! Dine in at your closest McDonald's outlet for a beyond-delicious Big Mac with Chicken. Or, feel free to get it home delivered from the McDelivery® app or McDelivery® website. Do download the McDonald's app for offers, deals, and more that you will love.