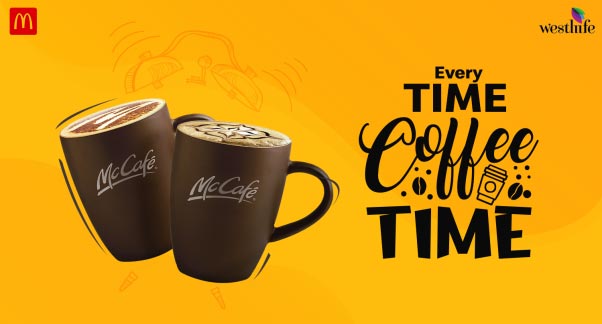 The cold winds of January are blowing relentlessly. But they will soon pass, and the warm sun will shine brightly in the sky. The days of scorching heat, tanned skin, and sunscreens will begin. But that too will be washed away by the thunder and rain of the monsoons. And when the cool breeze turns into chilly air, you may not even realize it. But there is one constant that does not change regardless of the weather or the time. One would even say it is the best aroma to wake up to. It is rich in taste and in experience. You have probably guessed it by now. It is coffee! The flavor, the aroma, and the feeling of simply holding a McDonald's hot coffee are beyond amazing, right?
When it comes to coffee, you know where to turn. Of course, it is coffee at McDonald's! With the very best ingredients and very skilled baristas, McCafé® never fails to deliver an exceptional caffeine delight.
The McDonald's hot coffee is crafted to suit every season and any occasion. It also comes with chilled options when you need your caffeine fix to be ice cold.
When the Monday blues come to you, shake them off with a McCafé Chocolate Frappe.
When you are going through a mid-week crisis as you wait for the weekend with bated breath, order a McCafé Iced Americano.
When you want to celebrate a really good day at work, get a McCafé Mocha Frappe.
When you want to catch up with your buddies from school, go in for coffee at McDonald's with a soothing latte.
When you are looking for the perfect beverage for a Sunday brunch, the hunt is over when you find yourself a Mocha from the hot coffee menu.
When you have called in sick but are craving something delicious, then the Flat White is yours to relish.
When you are preparing for a super important project and need to be super focused, think no more and get a Cappuccino.
When you are on your very first date, calm the fuzzy, warm feelings with McCafé Ice Coffee.
When you need something to keep you awake for your exam after a really stressful all-nighter, a McCafé Americano will do the trick.
And if your younger sibling or little cousin has tagged along, it is okay, because McCafé® has got a very yummy Hot Chocolate which they will surely be lovin'.
The great invention of coffee must be enjoyed the right way, and that is what coffee at McDonald's promises. So, don't worry about the time, and stop by your nearest McDonald's outlet for a fantastic cup of coffee. And don't be surprised, but you can relish your McDonald's hot coffee just as much from the comfort of your home by ordering in from the McDelivery® app or McDelivery® website. Make sure you download the McDonald's app as well; it has some awesome deals and discounts for you.