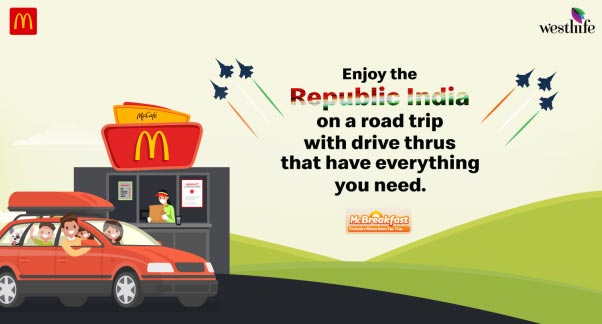 The morning of a holiday is very special. There is a giddy feeling that makes you not want to sleep in and wake up early while many others are still sleeping. Even the scent of a holiday morning is different; it smells of comfort and hope, does it not? And when the holiday holds a very dear meaning to you, it becomes even more incredible. That is exactly what we feel here in India on the occasion of Republic Day. It happens each year, but its importance and significance in the lives of the citizens are eternal.
So how have you planned this special day? Maybe you are hoisting the flag in your neighborhood park. Maybe you have an event planned at your workplace. Or, maybe you have decided to go on a morning trip with your family. If that is the case, then you are in so much luck. The McDonald's drive thrus are meant to make the most of your memorable moments. You must have worn your warmest clothes and headed to your vehicle. The engine is revving, and you are all set to have a great, meaningful time with your loved ones. While you have beaten the late-day traffic, do make a stopover for a McDonald's breakfast. Did we just hear you say, oh yes(?)
The McDonald's drive thrus are ideal for road trips. Not only do you get a delicious McDonald's breakfast on the go, but you also get clean and sanitary restrooms. Delight yourself with the breeze of morning air and take a much-needed pause to refuel yourself with nourishment. Get your McDonald's all day breakfast and really feel the good vibes all day. Breakfast is the most important meal of the day, and we take it very seriously at McDonald's. The nutritional information is always available at the store and on the app, and the breakfast menu is full of protein to give you a wholesome McDonald's breakfast. The morning menu includes Hashbrown, Hotcakes, Veg McMuffin®, Cheese McMuffin®, Double Cheese McMuffin®, Egg McMuffin®, Sausage McMuffin®, Sausage & Egg McMuffin®, Chocolate Chip Muffin®, Vanilla Chocolate Muffin®, and hot tea and coffee beverages from McCafé®.
Celebrate this day at one of India's favorite restaurants. Let the feeling of gratitude fill you as you make your way through the roads and lanes of this free country. And McDonald's is always along the path of your journey to cheer you on. Come over and relish a yummy McDonald's breakfast at the drive thrus. Don't forget the McDelivery® app and McDelivery® website when you want to dine from the comfort of your home. Always check the McDonald's app for specials and deals on your meals.