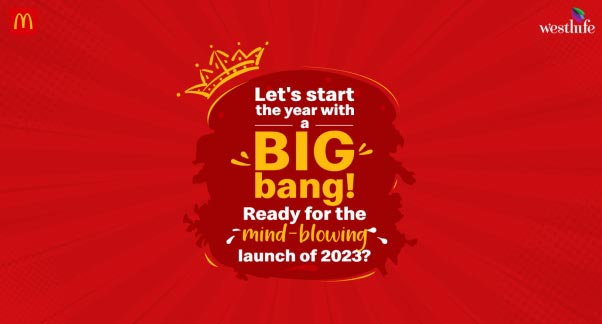 Have you heard of #WhatsHappening at McDonald's lately? There's so much excitement, and clearly it's more than just the new year. Following the massive 2023 celebrations, it's the unboxing of the amazing stuff that's in store. Starting with the first week of the new year. Any guesses already? Looks like a mind boggling surprise, doesn't it? After all, it is so big that the McDonald's India Twitter got the cricket legend's name wrong. The tweet said, "Vasu's Favourite Coming Soon," – who is Vasu? What's his Favourite? Well, that's none other than Virender Sehwag!
What can one say, we've got to wait for this super-duper BIG launch.
Clearly, everyone is losing it because this seems to be one of the biggest launch in the history of McDonald's India! Hold on, what's running through your mind right now? What do you think this is going to be about? A wholesome McDonald's chicken burger or a cheese burger with lots of fries, or maybe an extra large drink with dollops of whipped cream, a dessert? In any case, just hold on for a bit longer, really, just a bit longer because there is no end to this tasty talk.
And hey, when the talks are about something BIG, you better be thinking just that! We get it, it's so difficult to hold back all the excitement, so why not jump in?
Other big brands and fans of McDonald's have also chimed into the conversation of #WhatsHappening; click here to join in.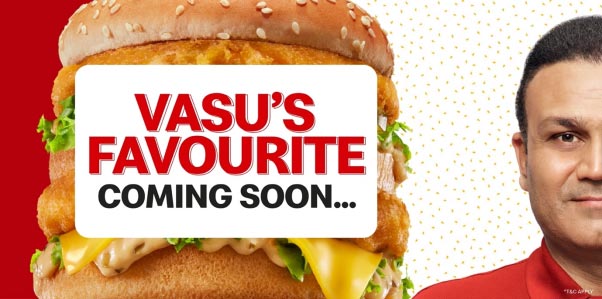 No FOMO please, more the merrier! The anticipation and confusion are really blowing everyone's minds off, and everyone just wants to know what this BIG news is! But, but, but… Good things happen to those who wait, and the good thing is that you don't have to wait too long. You can start pre-ordering from 4, January at 5 P.M. on the McDelivery app, where the cricketer himself will reveal his Favourite of the McDonald's new burger, or dessert, or drink, or snack, or… you are soon going to know it yourself!
Catch your breath, download the McDelivery app, and brace yourself because 2023 is beginning with a very, very big bang!