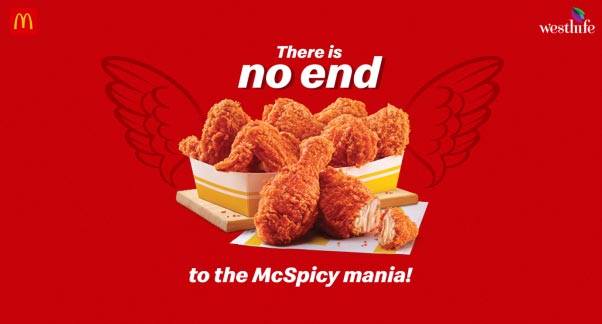 Winter has surely come, and everyone is doing their best to stay cozy. The air seems to bring not just cold winds but also a craving for delicious food. There is a constant need to snack on something, but it can't be just anything; it has to be yummy. Conversations are centered around falling temperatures and what food would go perfectly with the weather. Perhaps some hot chicken wings? You might be wrapped up in warm clothes, but you need nourishment to warm you on the inside as well. It has to be rich and full of flavor, and nothing less than what can be stomached. Don't you agree that good food not only feeds the body but also the soul? And it seems that luck is on your side because McDonald's can give you just that.
Keeping in mind your mighty winter appetite, how do the words "crispy" and "spicy" sound to you? Did your eyes widen with wonder and your mouth start to water? Well, that is exactly what McSpicy Fried Chicken does. Rashmika Mandanna, our national crush, has confirmed this on many occasions, right? And this season, McDonald's has launched its special McSpicy Chicken Wings in Hyderabad. And yes, it is going to be spicy to the bone.
McDonald's chicken wings are like no other. The chicken used undergoes a series of 64 unique quality tests before making its way into our kitchens. It is marinated with the very best of authentic spices and herbs. Later, it is coated with piri piri batter, made from a balanced blend of authentic spices and flour, and left to marinate again. Finally, the spicy chicken wings are fried until golden brown and crisp. You will be happy to know that it is part of the preservative-free menu at McDonald's, and zero artificial colors or flavors have been added while preparing the wings. The secret ingredient that makes McSpicy what it is is the Ghost Chilli Pepper (Bhut Jhalokia), which happens to be one of the hottest peppers in the world. There is absolutely no going back from an experience that is so crunchy, juicy, and spicy.
You probably can't wait to try them. And to reaffirm your cravings, here are some food enthusiast influencers who have fallen in love with the McSpicy chicken wings:
https://www.instagram.com/tastydrips/
https://www.instagram.com/foodies_of_hyd/
https://www.youtube.com/watch?v=bCPIvDPO6cs
This overload of yumminess from the hot chicken wings is available at all Hyderabad McDonald's outlets. And you can enjoy two McDonald's chicken wings for just INR 79. For orders above INR 399 on the McDelivery app, get two spicy chicken wings free. This super spicy yet super cool deal is only available until December 31. Make the most of it!
Crispy from the very first bite and spicy to the very last bite is how the McSpicy hot chicken wings roll. Even just saying the word "chicken" makes everything better, so imagine how awesome spicy chicken wings are going to be. You are always welcome to relish them at a McDonald's store in Hyderabad. Home delivery is also available from the McDelivery app or McDelivery website. Keep in touch with the McDonald's app for amazing offers and deals.