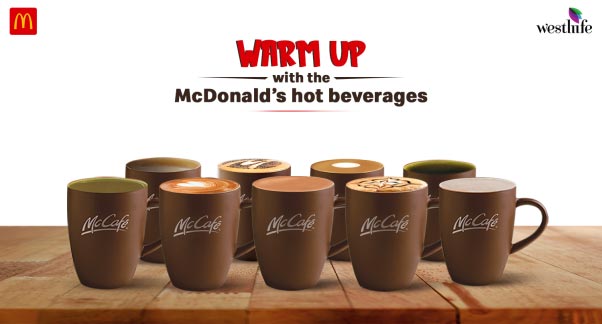 Gray clouds are veiling the skies, and there is a rustle of icy air all around. Daylight dims faster, and darkness arrives sooner. You are probably huddled up in a fortress of warm clothing and blankets. The tipping temperatures can really compel us to curl up. Tucked away in a comfortable corner with books and movies, you are all set for the season. But something is missing, right? Perhaps something warm, like a hot chocolate drink? Yes, that would make anyone sigh with contentment. And that is why the McDonald's hot beverage range should not be forgotten.
Sweater weather and me-time call for tea time! Take your pick from these distinct but delectable beverages: Strawberry Green Tea, Moroccan Mint Green Tea, and English Breakfast.
Milk is always the best beverage to drink, especially when it is cold out. It is even more so when it has a chocolate flavor. And isn't the Hot Chocolate drink the unofficial official drink of the season?
The biting cold is here, where are all the coffee lovers at? We will guess that the answer is McCafé! And why wouldn't it be? The skilled baristas at McDonald's have quite a reputation for their Flat White, Mocha, McCafe Americano, Cappuccino, and Latte.
To enjoy your hot drinks, food must be included as well, right? If the winter makes your sweet tooth cry out with cravings, pair your McDonald's Hot Chocolate with a Vanilla Chocolate Muffin, Chocolate Chip Muffin, Banana Walnut Cake, Chocolate Express Cake, or Blueberry Cheese Cake. If you are in the mood for savories, you can go for the Chicken McNuggets, Cheesy Nugget Veg Bites, Fries, Crinkle Fries, Mexican Cheesy Fries, Chicken Strips, or Veg Pizza McPuff.
For a hot chocolate drink or whatever you feel is the best beverage to drink, remember to make your way to McDonald's. Stop by your nearest outlet and share some warm memories with us. Or, get your McDonald's hot chocolate and other snacks delivered to your home from the McDelivery app or McDelivery website. Deals and offers that would make your winters a lot cooler, but in a good way, are always available on the McDonald's app; do check it out!