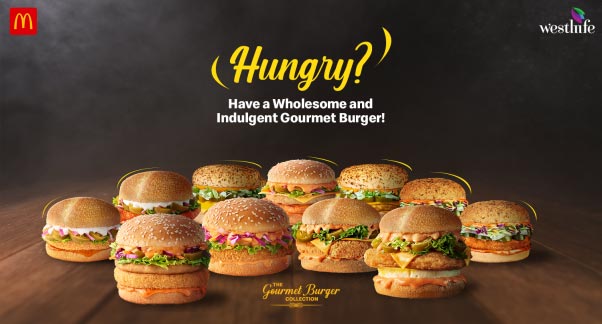 *Roar* That's a lot of noise. Where is it coming from? Definitely not the zoo; that is miles away. It is something very close by and something that cannot wait any longer. Listen closely. *Roar.* Oh dear, it is coming from inside your stomach, isn't it? The rumbling in the tummy is no joke. You can lose sleep over it, you can lose concentration over it, and you can release a wave of emotions that everyone around has to surf cautiously through. But the solution is simple. A very nice and very yummy meal can do the trick. While you might hold the refrigerator door open looking for answers, the McDonald's Gourmet Burger collection is all yours to devour!
As strong as hunger is, it appears in different forms in different situations.
There's the hustle day hunger! When you have been super cramped at work and need a little bit more motivation to finish the assignment, a filling meal helps. It calms you down and gives you the energy to keep going forward. At times like these, the McCheese Burger Veg or McCheese Burger Chicken, possibly the best Gourmet Burgers, are an excellent choice. The cheese-filled patty is soothing and can really uplift your spirits.
You have been moody all day, and to top that, you haven't been able to eat your meals on time. That hangry kind of hunger is difficult to stomach. You will need something so incredibly delicious to comfort your cravings as well as your feelings. From the McDonald's Gourmet Burger collection, the Triple Cheese Veg Burger or the Triple Cheese Chicken Burger will be the right pick, don't you agree?
It's winter vacation time, and you don't feel like doing anything, and the cold winds envelope you with boredom. You have paid too many visits to the kitchen only to be disappointed each time. Not to worry, the spicy specials from McDonald's new Gourmet Burgers, the McSpicy Premium Veg Burger or the McSpicy Premium Chicken Burger, will satisfy your boredom hunger. Its refreshing scrumptiousness is sure to do away with any dull vibes.
If you don't like taking even a single bite no matter how hungry you are unless you hit play, hold on. The Grilled Chicken & Cheese Burger or the Corn & Cheese Burger make the perfect meal for your movie marathon night. The right amount of crisp and the right amount of cheese will leave you with a flavorful taste throughout your watch.
Handle each one of your hungry cravings with the wholesome and indulgent McDonald's Gourmet Burger collection. Relish your meal at a McDonald's restaurant near you. Feel free to order in from the McDelivery app or the McDelivery website. Keep an eye out for deals and offers on the McDonald's app as well.