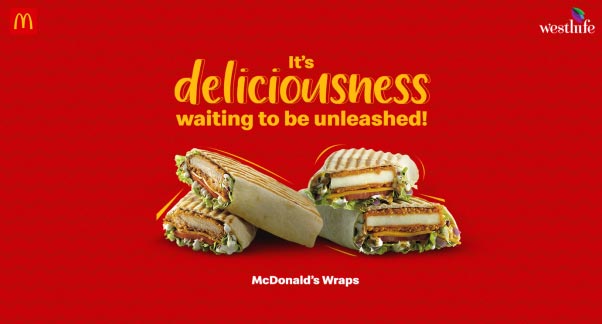 When it comes to restaurants, everyone has a go-to place. For many, it is McDonald's, and there is always a go-to order as well, right? It is your comfort place with your comfort food. But every now and then, you must spice things up with something new. It is almost like you are taking yourself on an adventure with your taste buds as the guide. It is an amazing feeling because you are kind of nervous and excited at the same time, and the anticipation is making your heart beat faster. The only thing that helps is knowing that if things go south, you can always turn to your favorite meal. But that should not be a problem because everything at McDonald's is bursting with yumminess.
The McDonald's wraps are quite an indulgence! See for yourself.
The Big Spicy Paneer Wrap includes a spicy batter coating of filling and a flavorful paneer patty with tom mayo sauce wrapped in cheese, onion, and lettuce.
The Big Spicy Chicken Wrap comes with a spicy batter coated tender and juicy chicken patty with creamy sauce that is wrapped with cheese, onion, seasoning, and lettuce.
What is awesome is that the McDonald's wrap can even be an entire meal. Don't believe it? Then check these out:
McSaver Big Spicy Paneer Wrap Meal
Big Spicy Paneer Wrap with medium Fries and your preferred beverage.
McSaver Big Spicy Chicken Wrap Meal
Big Spicy Chicken Wrap with medium Fries and a beverage of your choice.
Try it for yourself; it might even become your next favorite. A wrap is also an ideal when you are on the go. A quick breakfast before catching a cab to work, grabbing a bite while on a shopping spree, a late lunch on a busy day—the McDonald's wraps are all yours! They pair well with snackable items like Fries, Crinkle Fries, Veg Pizza McPuff, Chicken McNuggets, Mexican Cheesy Fries, Chicken Strips. Make it wholesome and perfect for the season by adding a hot beverage. You can choose from – Strawberry Green Tea, English Breakfast, McCafe Americano, Latte, Flat White, Cappuccino, Mocha, and Hot Chocolate.
There are so many delicious flavors at McDonald's that await you. Stop by your nearest location and enjoy them thoroughly. You can always enjoy your wrap while you are all wrapped up at home for the winter. Order in from the McDelivery app or McDelivery website. Download the McDonald's app for coupons, deals, and discounts that you will surely be lovin'.