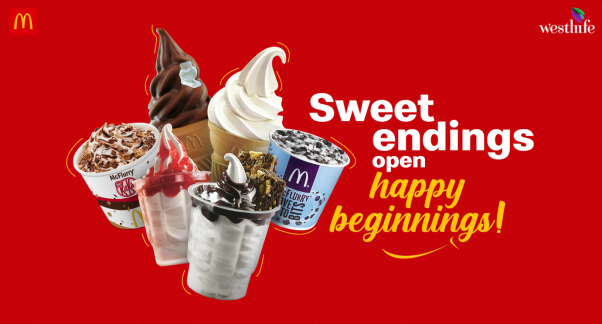 So the year 2022 is coming to an end. And, oh, dear, what a year it has been! There have been zero lockdowns, amazing pieces of cinema, awesome scientific discoveries, and something no one can take off their minds: a glorious FIFA season hosted like never before and an equally glorious win. So much has happened, and there is so much more to look forward to. While you reflect on the entire year and how much you have grown as a person, isn't there a little bit of sadness that follows? But not to worry, everyone enjoys a jolly good ending, and McDonald's is here to help you bid this year a very sweet goodbye.
Enjoy the last of 2022 with something that makes your heart happy. And wouldn't that be a Brownie Hot Fudge which is quite possibly McDonald's best dessert? But there are other options as well that can soothe your sweet tooth just as much.
Winter and baked treats are a match made in heaven! Allow these to prove it to you: Vanilla Chocolate Muffin, Chocolate Chip Muffin, Banana Walnut Cake, Chocolate Express Cake, and Blueberry Cheese Cake.
What happens when ice-cream gets a makeover and it absolutely slays: Kit Kat McFlurry, Kit Kat McFlurry, Mcflurry Oreo Small, McFlurry Banana Caramel Oreo, Black Forest McFlurry, Banana Caramel Sundae, and Kit Kat Sundae.
The two personalities of the soft serve—one is super cold and the other comes with some warmth: Soft Serve Strawberry and Soft Serve Hot Fudge.
Don't miss out on the sweet yumminess that McCafé can craft with the Kit Kat Frappe, Berry Lemonade Splash Regular, Chocolate Shake, Strawberry Shake, American Mud Pie, Mango Smoothie, Mixed Berry Smoothie, McCafé-Mocha Frappe, and McCafé-Chocolate Frappe.
Allow McDonald's to let sweet endings inspire a happy, hopeful, and wholesome beginning to 2023. Stop by your nearest McDonald's restaurant for your well-deserved dessert time. You can also get it home delivered through the McDelivery app or McDelivery website. Check out deals and offers as awesome as a hot chocolate brownie ice cream that are available on the McDonald's app.