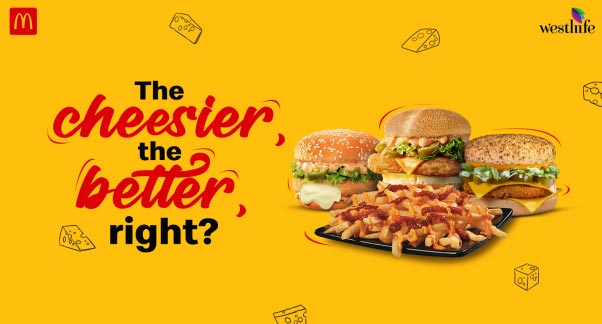 There are so many things in this world that are versatile. But the versatility of a particular food is simply *chef's kiss.* It is soft, creamy, and really simple to look at. You have probably guessed it. Merely saying the word brings a smile to every face. Yes, it is cheese! It appears to be very modest, but in reality, add it to any dish, and it becomes magical, just like the McChicken cheeseburger. This dairy discovery is truly one of the best gifts mankind gets to enjoy regularly. And McDonald's is not far behind when it comes to embracing this amazing ingredient. The McDonald's menu has some crazy good cheesy options, like the McDonald's chicken cheese burger, that you can't help but be lovin'.
Let's slowly savor and appreciate the cheesilicious goodness prepared at McDonald's!
The chef's special Gourmet Burgers have crafted wholesome and indulgent McDonald's chicken cheese burger and delectable vegetarians options too:
Just imagine how captivated your tastebuds will be when they experience patties oozing with cheese from the McCheese Burger Chicken or the McCheese Burger Veg!
Cheese-filled patties and added layers of cheese slices, what's not to like about the Triple Cheese Chicken Burger or the Triple Cheese Veg Burger?
Crispy patty topped with a slice of cheese, talk about a match made in heaven. That's the symphony of the Grilled Chicken & Cheese Burger or the Corn & Cheese Burger.
Even finger foods can enjoy cheesy company! Add the Classic Cheesy Dip and make it even cheesier.
Can you imagine pizza without cheese? Neither can the Veg Pizza McPuff!
Mexican Cheesy Fries is what happens when your favorite snack meets your favorite topping?
Is there absolutely anyone who does not like the Cheesy Nugget Veg Bites? It is the ultimate tasty treat to enjoy when you are on the go!
You know all the cheesy options so well and you definitely know what a delight they are. So, drop by your nearest McDonald's store to grab a bite that is bursting with cheese. Stay logged into the McDonald's app for offers and deals you will surely love as much as you love the McChicken cheeseburger. You can always get your meals home delivered from the McDelivery app or McDelivery website.