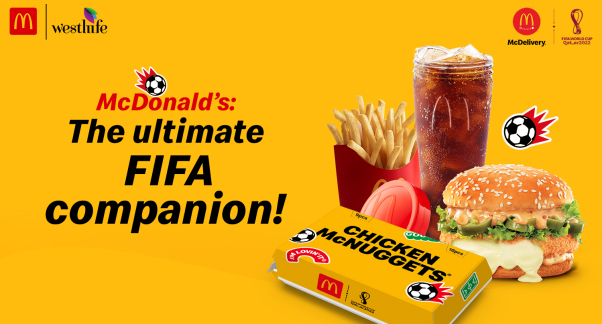 The football carnival is here and how! Millions of people have caught World Cup fever, and we're here to sweeten the deal. For a celebration that happens once every 4 years, at McDonald's we think it requires something special. Offers worthy of the sporting event that has everyone glued to their screens. Whether it be at schools, offices, playgrounds, or pubs, the World Cup with McDonald's chicken nuggets is an exciting experience for kids and adults alike.
32 countries are taking part in this tournament, and it is time to pick your side. Who do you think has the best shot at stealing the cup? Are you rooting for Messi's Argentina or Ronaldo's Portugal in what could be their final World Cup, or any other favorites like Brazil, France, or Spain? It is a whole lot of cheering and you need all the energy possible, so this is where we come in. At McDonald's, we fuel each and every supporter with our wide variety of snacks like the popular McDonald's French Fries, Mexican Cheesy Fries, Cheesy Nuggets, Spicy Chicken McNuggets, and more throughout the game.
Cheer a loud one for your team, no matter where you might be. Munch on our quick finger foods, such as the popular McDonald's chicken nuggets, or slurp McFlurrys, which now has a new KITKAT flavor. And there is no time like halftime to enjoy our delicious meals with the new Gourmet McCheese Burgers, Triple Cheese Burgers, and McSpicy Premium Burgers. If you are a fan of the classics, then you can go for the McAloo Tikki Burger, McVeggie Burger, and the McChicken Burger. Add a side of fries and a soft drink to go with it for the perfect meal. But it can get even better with a sweet treat from the McDonald's dessert menu. After all, sugar and excitement are a hand in glove combination.
So where would you be watching the games? Switching tabs on your web browser during a meeting or on a spread out couch with all of your friends with too many pairs of hands fighting to get to the dip for their favorite McDonald's item? Don't forget to take part in McDonald's special contest, where you can get a chance to win an official match ball from this year's edition by just buying a meal including a Coca Cola beverage from the McDelivery app. Yeah, you heard that right. The top 80 spenders get a match ball. How great is that? Also, there are penalty shootout games in select McDonald's outlets, where you stand a chance to win a McDonald's voucher. So come down and showcase your football skills!
You can dribble your way into one of our many outlets across the city and grab some of your favorite McDonald's items, McChicken Nuggets or something else that's on your mind, or you can place an order and we'll come to you. Wherever you might be watching the World Cup, you can use the McDelivery app or the McDelivery website. Be sure to make use of the awesome deals and offers on meals from the McDonald's app as well.