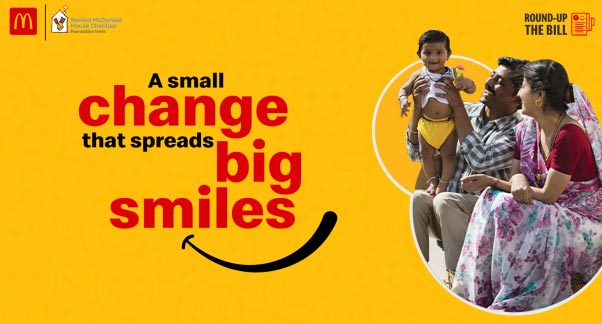 The world is such a wonderful place. We witness nature's goodness every single day, meet people with incredible souls, and live moments that are nothing less than magical. But despite all the amazing gifts life has to offer, there are definitely going to be testing times, and each has a trial that is unique to them. While some are experiencing ups, others are experiencing downs. And the only way to help bridge this difference is to show empathy and kindness to each other. One may feel that they can't do much to help at times as everyone is doing their best to just get by. But McDonald's has something in mind that is easy and can help you help others.
The brand's philanthropic initiative, the Ronald McDonald House Charities (RMHC) is involved in a lot of activities that care for children and their families in need. The India chapter i.e Ronald McDonald House Charities Foundation India (RMHC India) is situated in the Outpatient Department of the Paediatric Haematology – Oncology of BJ Wadia Hospital for Children in Mumbai, in the form of Ronald McDonald Family Room (RMFR). It provides comfort and care to children coming to the hospital along with their families for the cancer treatment.
Do you know that just by enjoying your favorite burger, some cheesy fries, or a soothing hot beverage, you can help them? Yes, it is so simple. The way this works is that you 'Round-up Your total Bill' to the nearest ten and the balance change will be donated to RMHC India. A few rupees from you will make a significant difference in keeping families close at the toughest of their times. Ask the front counter of the restaurant to Round-up Your Bill. This can be done if you are using the digital Self Order Kiosks as well. It is an amazing opportunity to relish your favorite food and spread smiles among those children.
RMHC India that has touched the lives of over 35,000 families since its inception in 2016. The Family Room offers a bright and happy space that lets children be children and do things they would love to do like playing with toys and reading books besides drawing strength from each other's company. It provides a comfortable waiting area wherein families await their turn to meet the doctors and offers various facilities like a child-friendly play corner and refreshments area for these families. The facility also supports families with the right counseling. It is a place to rest and regroup, along with 19 recliner beds for children undergoing treatment.
So go ahead and order a delicious burger with some fries and a drink. Add a dessert to make it an even sweeter deal. Visit your nearest McDonald's outlet or order in from the McDelivery app, where you get a chance to donate for RMHC India too, or McDelivery website. The McDonald's app always has awesome deals and discounts; don't forget to check it out.