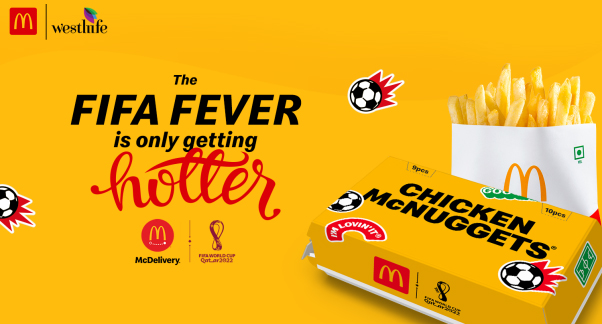 Let's face it: McDonald's customers are incredibly special. But this World Cup, McDonald's is going to make you feel even more special. Just the thought of FIFA is so thrilling, and now that the games have kicked off, it is hard to contain the excitement. It is time to gather your fellow football fans, order some McDonald's chicken nuggets, and experience what is possibly the most anticipated part of this year. The FIFA theme songs and the cheers of countless spectators are going to be everyone's soundtrack for the next few weeks. Apart from the beloved game, we have other news for you! It is a chance to be more than an elated watcher at the World Cup.
While your FIFA fever is getting higher with every match, McDonald's has another reason for you to voice your loudest cheer. You can win an original FIFA match ball! Take a moment to process that, because it is absolutely true. Here's what you have to do: Purchase a McDonald's meal with a Coca-Cola beverage from the McDelivery app. Yes, it is as simple as that. But do keep in mind that your meal must include a burger, fries, and any one of the Coca Cola beverage. The top 80 spenders between November 21, 2022, and December 20, 2022, can take the ball home. Winners will be informed through their registered phone number on McDelivery. Follow the McDonald's social pages for updates on the announcements.
Hold on, McDonald's has another exclusive offer that is simple and one you can't resist. Experiential zones are going to be set up in select stores in Bengaluru and Mumbai. What you've got to do is, simply buy a McDonald's Coke meal at these stores. This will give you a penalty shoot-out chance, which has three attempts, and the player must score goals in every shot. Those who qualify will win McDonald's voucher redeemable at any of the outlets (in West & South India) until 31 January, 2023.
Witnessing a game gives you an amazing rush. While everyone can't be at the stadium in Qatar, we can surely enjoy the live broadcast. It is time to create a precious memory with your loved ones and the entire world. Include the McDonald's chicken nuggets while you and your buddies cheer for your favorite team. Cheesy chicken nuggets, veg cheese nuggets with a delicious beverage is how one must enjoy the World Cup!
The gift of the season is the game, and McDonald's is all set to make it even more magical. Relax, unwind, stream, and scream with joy for your favorite sport. It is best when you add your loved ones and cheesy chicken nuggets and veg cheese nuggets to the mix. Visit a McDonald's outlet for a yummy meal and some penalty kicks. Make way for an original FIFA match ball by ordering from the McDelivery app or McDelivery website. Don't forget the McDonald's app for many more awesome deals.