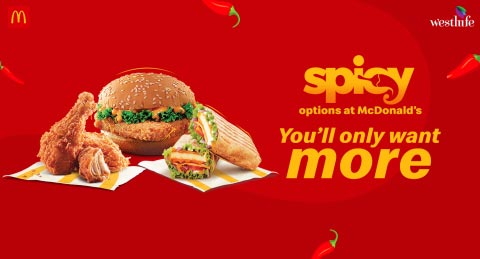 The feeling of barely being able to catch your breath between bites of super spicy food is quite thrilling, isn't it? There is no stopping once you take your first bite. Everyone has a favorite spicy treat; perhaps yours is a Paneer Wrap McDonald's? But why is spicy food so beloved? Is it just because it's flavorful? There are actually other forces at play. The spice you consume causes your body to believe it is in a dangerous situation. So, the body responds with pleasure-causing hormones called endorphins, which are released to calm you down. It is as if your taste buds take you on an adventure. The next time you are eating a Spicy Paneer Wrap, think about all the happy hormones!
When it comes to satisfying the sense of taste, McDonald's is the very best, don't you agree? Catering to different likes and preferences with a menu that offers a variety of flavorful options. And, if we are talking about spiciness, McDonald's is quite unbeatable. The fanbase of the spicy paneer wrap can attest to this. If you're bored with your lunch, spice it up with McSpicy Fried Chicken or a Paneer Wrap McDonald's.
Let's refresh your memory on the spicy options at McDonald's!
It is spicy until the very last bite, with the perfect amount of crunch and tenderness.
-McSpicy Fried Chicken
It is tender, juicy, spicy, and waiting to be devoured.
– McSpicy Chicken Burger
– McSpicy Paneer Burger
Rich and spicy flavor that is wrapped and ready to be relished.
– Big Spicy Paneer Wrap
– Big Spicy Chicken Wrap
Chef's special gourmet burgers in generous sizes with spicy patties and spicy sauces.
– McSpicy Premium Veg Burger
– McSpicy Premium Chicken Burger
A spicy snack is always welcome! Pair the world famous fries with your favorite spice mix and experience how your senses go "para-pap-pa."
– Piri Piri Spice Mix
– Chatpata Spice Mix
At your next meal, escape into the captivating and irresistible charm of spiciness. Is it going to be a Big Spicy Paneer Wrap or a McSpicy Premium Chicken Burger? Whatever you choose, savor this ravishing feeling at a McDonald's restaurant near you. Feel free to get your meal home delivered from the McDelivery app or McDelivery website. Make sure to avail the amazing deals and offers on the McDonald's app before you place your order.
Happy Eating!