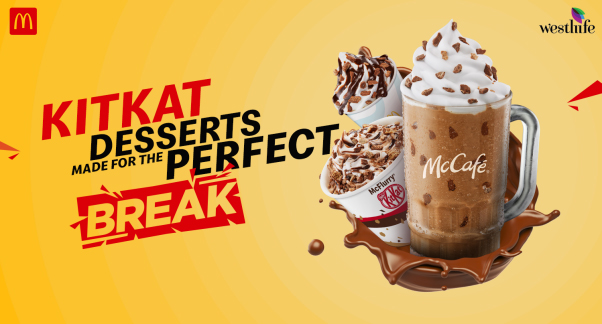 The endless hustle and bustle of city life makes us feel like we are on a constant relay. Time flies like there is no tomorrow, and the exhaustion is endless. Pausing, taking a deep breath, and relaxing are very important needs that are being neglected. And at McDonald's, we understand this and have crafted the perfect dose of yumminess for your much-deserved break time. The newest items on the menu, KITKAT desserts and McDonald's KITKAT Frappé, are all yours to savor. The sweet tooth aches more when stress is involved. So, enjoy the chocolatey and fresh KITKAT treats that also have a new addition to the McDonald's frappe flavors.
With the KITKAT McFlurry, munch on the crunchy KITKAT bits sprinkled on soft serve ice cream.
A creamy vanilla soft serve, chocolate fudge sauce, and crushed KITKAT fingers are the delectable flavors offered by the KITKAT Sundae.
A blend of the signature chocolate frappe and KITKAT pieces that are topped with a dollop of whipped cream and another layer of KITKAT chunks. This magic whipped up by McCafé is the McDonald's KITKAT Frappe.
There is no limit to de-stressing. So, pair your KITKAT delights with some McDonald's light bites. The snack menu never fails to disappoint. You can choose Fries, Cheesy Nugget Veg Bites, Crinkle Fries, Mexican Cheesy Fries, Chicken Strips, Chicken McNuggets, or McSpicy Fried Chicken. This is a list that is free from artificial colors, flavors, and preservatives. So you can unwind with real food that's real good. Take your pick from: Vanilla Chocolate Muffin, Chocolate Chip Muffin, Banana Walnut Cake, Chocolate Express Cake, and Blueberry Cheese Cake.
McDonald's is always here for you when you need a break. Satiate your sweet tooth with the KITKAT desserts or the other McDonald's frappé flavors. Stop by a McDonald's outlet close to you or opt for home delivery from the McDelivery app or McDelivery website. Stay logged in to the McDonald's app to avoid missing out on any cool offers or deals.