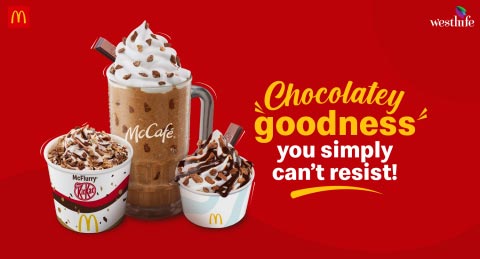 When the sweet tooth beckons, you have to answer its call. Especially when it is that of chocolate or something more specific like McDonald's Shake or McDonald's Chocolate Shake or the more recent ones like McDonald's KitKat variants. You have to agree: chocolate cravings have their own special place, right? The skillful, sinful union of cocoa, sugar, and milk is one of the best human inventions ever! Over time, the chocolate frenzy has created so many variations of desserts, and each one of them is just as pleasing. You must have heard that "a chocolate a day keeps the mad mood away." So, relax and have a sweet break. When it comes to breaks, there is one particular chocolate that comes to mind, doesn't it? That's right, it is KitKat, the unofficial official break-time buddy!
The newest items on the McDonald's menu are the KitKat-special indulgences. There are three new options crafted to satisfy your sweet tooth. Your classic McFlurry, Sundae, and McCafé's Frappe get a KitKat makeover. There is flavor, texture, and unmatched deliciousness made with soft serves, crunchiness, and dollops of yumminess. It is a treat you will definitely want to try. Enjoy these latest recipes from McDonald's with your friends. Pair it with your favorite burger meal and even McDonald's snackables like Fries, Crinkle Fries, Mexican Cheesy Fries, Veg Pizza McPuff, Cheesy Nugget Veg Bites, Chicken Strips, or Chicken McNuggets. It is a happy time in the making!
Listen up if you are a dessert lover,
There is a new flavor for you to discover!
On your mark, get set, and hurry,
There is no time to waste to try the KitKat McFlurry!
No matter what time or what day,
You must experience the heavenly KitKat Sundae!
Need to relax and push your stress far, far away?
The brand new, refreshing KitKat Frappe is here to make your day!
While McDonald's KitKat Shake isn't on the menu, there are many amazing KitKat variants to brighten up your day. Don't miss out on the yumminess overload of the KitKat treats ready to be slurped away. Catch this irresistible chocolatey goodness at a McDonald's store near you. Or, you can relish them from the comfort of your home by ordering in from the McDelivery app or McDelivery website. Be sure to avail the amazing deals and offers on the McDonald's app as well.