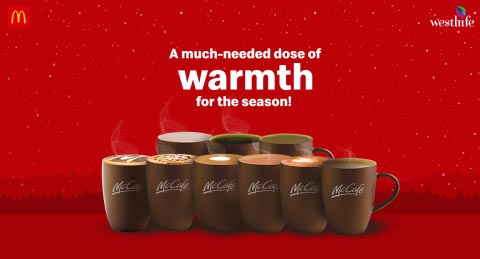 It is that time of the year when the leaves rustle on breezy roadways, the evenings arrive faster, and there is a rush to stay indoors. The air outside is only going to get cooler, and most want to stay cocooned up. The need to feel and stay warm is heightened. So, what does one seek in these times? It is probably what you are thinking—McDonald's hot drinks! A piping hot cup of beverage! When the perfectly made drink enters your body from a small sip that is gulped down, a deep sense of contentment sets in. If you have a fluffy blanket, a good book, and a warm cup of replenishment, what more can you ask for? Well, we do hope that you ask, because there are lots of special things brewing at McDonald's McCafé that you won't want to miss.
With skilled baristas and the very best ingredients, McCafé delivers delicious beverages you won't be able to forget. Take a look at the McDonald's hot coffee menu along with the other items. There are wonderful varieties of tea, coffee, and other hot drinks that you will love on a cold day. To enjoy it to the fullest, pair the hot coffees at McDonald's with McDonald's desserts like Vanilla Chocolate Muffin and Chocolate Chip Muffin. Or, slurp away with some snackables on the side like Crinkle Fries, Veg Pizza McPuff, Cheesy Nugget Veg Bites, Chicken Strips, Chicken McNuggets. Add a splendid conversation with a friend to the list too!
Let's explore some McDonald's hot coffee menu and tea options for you!
Enjoy your tea blend with fruity, refreshing strawberries.
Strawberry Green Tea
It is a good way to start your day with a rich, robust English tea.
English Breakfast
Especially crafted for the coffee lovers who love a bolder cup.
McCafé Americano
A classic coffee choice you can't go wrong with.
Cappuccino
A smooth and sophisticated caffeine escape.
Latte
Expresso and hot steamed milk – what's not to like about this?
Flat White
Isn't it hard to compete with the combination of steamed milk and sinful chocolate?
Hot Chocolate
A hint of the Middle-eastern Moroccan mint to your green tea.
Moroccan Mint Green Tea
Made to relish on the cuddle-weather kind of days.
Mocha
Remember that McDonald's hot drinks are here to give you a steaming cup of goodness to keep you cozy during the winter. Visit your nearest McDonald's restaurant and experience the finest of McCafé's treats. Check out the McDonald's app for deals and offers. You can always enjoy your dose of warmth indoors by ordering in from the McDelivery app or McDelivery website.