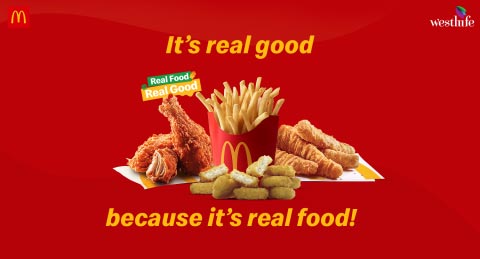 The love that human beings have for food is simply immeasurable. The binding of different, distinct elements into a whole dish is almost magical. And the symphony of flavors that our taste buds experience is one of the greatest joys ever. But do you know when food is really appreciated? It is when food is in its truest form and McDonald's is extremely proud to have preservative-free eatables on its menu. These select items are sourced, prepared, and presented without any artificial colors, artificial flavors, or preservatives. You will be lovin' it more because it is Real Food which makes it Real Good.
The indulgences on McDonald's preservatives free food menu include McDonald's burger patties, McDonald's Fries, Veg Nuggets, Chicken Nuggets, Chicken Strips, and McSpicy Fried Chicken. If you would like to make more informed decisions about what you are consuming, no need to worry. McDonald's offers Allergen & Nutritional Information at the restaurant and on the McDelivery app and website as well.
Another aspect that McDonald's India has embraced is sourcing almost 97% of the ingredients fresh. You heard it right, each McDonald's meal is so delicious because we are vocal for local! The different parts of the country contribute their best produce, which makes McDonald's truly exquisite. If you didn't already know it, you must know that the potatoes that go into making everyone's favorite—fries, come from Gujarat. The regular and whole wheat buns are from a state-of-the-art facility in Maharashtra. The crunchy lettuce without which the burgers are incomplete is grown in the Nilgiri Hills. The state of Karnataka provides the must-have jalapenos. The nutritious, rich, red tomatoes come from farmlands in western India. And how can we forget that cheese, a beloved part of the burger experience, is supplied by the Baramati area of Maharashtra.
You know where to find the perfect combination of deliciousness and wholesomeness. Enjoy Real Food that is Real Good at your nearest McDonald's restaurant. You can always get your treats home delivered from the McDelivery app or McDelivery website. The McDonald's app is always buzzing with deals and offers on your meal; do check it out.