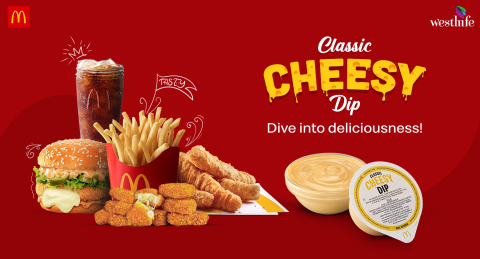 It is the thoughtful details of our daily lives that make every day so beautiful. The newspaper with a cup of tea, bunny-eared shoelaces, ice cream with chocolate chips, a bow on a hairband, or dew drops on leaves on chilly mornings. These little things make living so much more enjoyable. The same principle can be applied to food. A dash of a simple ingredient, the plating on the table, or even the fold of the napkin can make the dining experience even better. And the role of condiments must not be taken lightly. The amount of oomph a McDonald's dipping sauce brings makes a world of difference to your meal. Sauces add another level of taste, texture, and appeal to food. A good example of this is the mustard dipping sauce. Along with its tangy flavor, it offers a creamy taste and texture with soothing visuals to look at as well.
When it comes to McDonald's, the Classic Cheesy Dip doesn't fail to impress. Along with the richness of the cheese, the hint of gochujang sauce does the trick. It is a chota packet with a big dhamaka flavor! All you have to do is take your favorite finger food, dip it into this McDonald's dipping sauce, and you will be enjoying the perfect cheesy partner for your snacks. Feel free to relish it with a burger as well!
Chicken Nuggets, Chicken Strips, Cheesy Nuggets, Fries, Crinkle Fries, Mexican Cheesy Fries, and Veg Pizza McPuff are all the McDonald's light bites you can enjoy with the Classic Cheesy Dip . The pairing of crispy snacks with a thick, creamy dip not only seems tasty but also like art. You will be completely satisfied with the enhanced flavors, and it will feel like the skies are singing "para-pap-pa!"
Now that you know that McDonald's has a Classic Cheesy dip, you can make your meals and sides a lot more appetizing! Well, you know exactly what you must do. Drop by a McDonald's outlet near you and dine in for a fine meal. If you prefer not to leave the comfort of your home, then the McDelivery app and McDelivery website are right at your fingertip. Make sure you are in touch with the McDonald's app because it always has some awesome offers and deals.