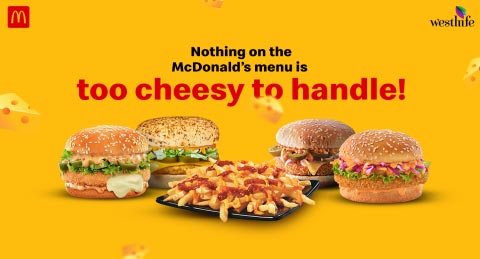 Cheese. It is a word that is enough to make you shudder over the thought of its heavenly texture and taste. Every culinary treat can thank cheese for adding a little oomph to its recipe. It comes in different shapes, sizes and is distinctly aged for a flavor that is 'oh so special'. Now here at McDonald's, we realize that, and make sure you get a bite or more of this mouthwatering ingredient. Have a bite of the Mexican Cheesy Fries McDonald's to know how seriously we take our cheese game. There was a long standing myth that our moon was completely made up of cheese. While unfortunately, we know that is not true, our cheesy items promise to take your taste buds on a journey, to the stars and back.
At McDonald's, we pass rigorous tests to choose the finest processed cheddar cheese for our customers. McDonald's has become the premier destination for cheese lovers everywhere, with our eye-catching and tantalizing selection of products that are laden with cheesy temptations. The mouthwatering and filling cheesy options available range from McDonald's Cheese Fries, burgers to nuggets among other lip smacking products. Our burgers are deliciously loaded with cheese to leave you asking for more. Chef's Special Gourmet Burgers especially like the McCheese Burgers and the Triple Cheese Burgers are engulfed with the creamy goodness of cheese, dripping through the sides. There is no better quick finger food than the cheesy bites from McDonald's.
McDonald's cheese fries are no different, with the Mexican Cheesy Fries, McDonald's cheddar twist to the classic French Fries, dipped in a mountain of cheese. This time around, your friends won't be rolling their eyes when you get cheesy. Every friends' group needs a little cheesiness to function, and we are here for the rescue with cheese burgers and Mexican Cheesy Fries McDonald's.
To avail these cheesilicious products on our menu, all you have to do is pull up to any one of our outlets. For those occupied with work or study and would like to take a cheesy break from the comfort of their own homes, the McDelivery app and McDelivery website is at your service. We'll deliver right to your doorstep so that you can enjoy these cheesy delights like the Mexican Cheesy Fries with your friends and loved ones. Also, keep a lookout on the deals and offers you can use for your order from the McDonald's app.