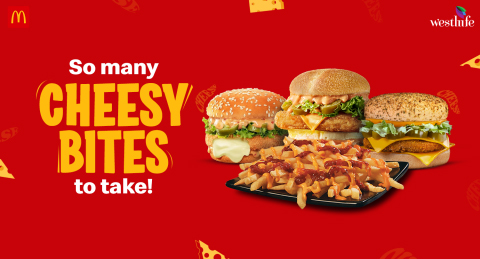 To be able to enjoy a scrumptious meal is one of the greatest joys of life. It not only nourishes the body but also soothes the soul. What would make a meal so scrumptious? Is it the exceptional quality or the generous quantity? Or, is it the skillful use of spices and seasonings? Perhaps it is all of it, like a McSaver McSpicy Chicken Meal. But there is one particular ingredient that everyone agrees is unmatchable. Every time it is associated with a dish, one can't help but be enticed. It is soft, sometimes melting, creamy, and makes you feel all dreamy, and yes, it is cheese! It is common knowledge that McDonald's cheesy menu is the very best.
There are so many options at McDonald's that would make you fall in love with cheese even more. But for a fine and filling culinary experience, drinks and desserts must be included. Ending a lovely meal with something sweet is like witnessing a rainbow after enjoying a pleasant rainfall. It can never get too cheesy, so pair your burger and fries with a Classic Cheesy Dip. You can opt for a McSaver Corn & Cheese Burger Meal or a McSaver Grilled Chicken & Cheese Burger Meal, which was earlier called the McSaver American Cheese Supreme Meal. The classic Coke always goes well with a meal, but there are many more delicious choices for you to sip, slurp, or savor with a spoon.
Let's explore some cheesy and sweet combinations that will surely make you go "para-pap-pa!"
McCheese Burger Veg with Soft Serve Strawberry
McCheese Burger Chicken with McFlurry Banana Caramel Oreo
Triple Cheese Veg Burger with Black Forest McFlurry Medium
Triple Cheese Chicken Burger with Brownie Hot Fudge
McSpicy Premium Veg Burger with American Mud Pie
McSpicy Premium Chicken Burger with McCafé-Chocolate Frappe
Grilled Chicken & Cheese Burger with Mango Smoothie
Corn & Cheese Burger with KitKat Frappe
Mexican Cheesy Fries with Chocolate Shake
Cheesy Nugget Veg Bites with Strawberry Shake
A wholesome meal does wonders for your mood. Just like a McSaver McSpicy Chicken Meal or a McSaver American Cheese Supreme Meal, which now you know goes by a different name. So dine in for cheesy and sweet meals and moments at a McDonald's restaurant near you. You can always get it home delivered from the McDelivery app or McDelivery website. The McDonald's app is always buzzing with offers and deals; don't forget to download it.