Your Diwali celebrations are in full swing, right? The preparations are done, the guests have arrived; it's a full house of absolute fun and fervor! That is the extraordinary touch that togetherness brings. The fact that everyone, from the tiny tots to the elderly, puts a pause on their schedules and gives their all for the days of Diwali is extremely heartwarming. This blessed occasion lets you reconnect with all your family and friends. And, a catch-up with the cousins and the favorite aunts and uncles is something everyone looks forward to. There is love, light, song, and dance, and it is simply beautiful!
Festivities and families go hand in hand, and when you add a delicious meal to the mix, it makes it even better. Well, McDonald's is right here to add more magic to your moments with McDonald's special menu for the season. There is an overload of yumminess on the menu that will surely make your heart sing "para-pap-pa." Cheesy moments are best enjoyed with family, so gather them together and for cheesiness no one can get enough of with the McCheese burgers. There are so many more mouth-watering options to indulge in! Keep the McDonald's finger food handy too, so that no one gets hangry. A spat between siblings over the last laddo? Get them to chill out with their favorite shake or chiller. Running low on the Diwali mithais? The McDonald's desserts are all yours to relish. Feeling drained because your social battery is running out? Give yourself a chocolatey break with the new KITKAT desserts.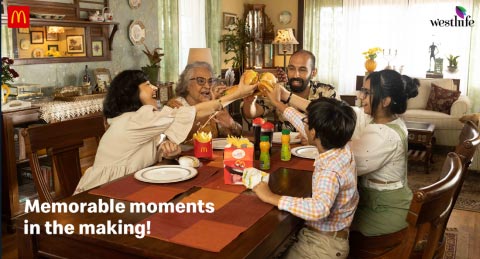 Family time also calls for a long drive with karaoke. All the seating adjustments and the quarreling for song requests are sure to make you lose energy. But, don't worry, the McDonald's drive-thru is at your service to nourish you for another jamming session. And, in the spirit of this joyous festival, all the Drive-Thrus are going to be decorated and lit up, so that the festive fervor never dies.
We hope that you have a flavorful Diwali with lots of light, prayers, and happiness in the company of your loved ones. Catch McDonald's promo codes and coupons on the McDonald's app to avail delicious deals and offers, especially for this season. Stop by a McDonald's restaurant near you, or get your food home delivered from the McDelivery app or McDelivery website.
Happy Diwali!