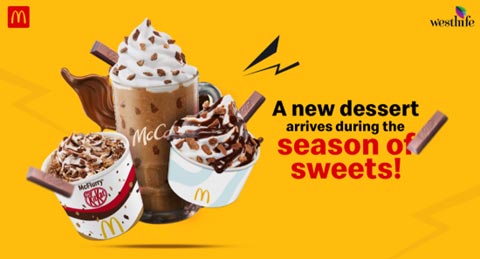 Have you ever wondered what it would feel like when different parts of your world came together? Now, you don't have to wonder any longer. Presenting the KITKAT festival, in collaboration with NESTLE and McDonald's to provide you with the best of both worlds. It was only a matter of time before two of the longest standing flavor makers joined hands to create something otherworldly. New product launches with McDonald's are worth the anticipation and this one is no different.
This festival of lights, we have another festival for you to celebrate, especially if you have a particular sweet tooth. The festival of flavors, eagerly waiting for your indulgence. With incredible new recipes including the KITKAT McFlurry and KITKAT Sundae in the dessert menu and KITKAT Frappe from McCafe, we absolutely cannot wait to share our inventions with you. Family and togetherness are the pillars of Diwali and this year, sweeten your palates with our choice of KITKAT drinks and desserts. It is an old saying that everything auspicious should begin with the serving of sweets and we couldn't agree more. Our extensive range of products is carefully prepared to cater to different tastes and preferences.
McDonald's KITKAT McFlurry, a yummy arrangement of ingredients and textures, carefully sculpted to give you an out of body experience. The classic vanilla soft serve that melts in your mouth in combination with the devilishly crunchy KITKAT bits and transforms you to another place.
The KITKAT Sundae, a lesson in decadence, if ever there was one. The creamy vanilla soft serve with chocolate fudge sauce and crunchy, delectable KITKAT fingers go well together, just like you and your love for all things sweet.
The all new KITKAT Frappe is a sensation in and of itself. It contains the signature chocolate frappe which is blended with KITKAT pieces and topped with dense whipped cream and even more KITKAT bites to provide an innovative spin on the frappe. We can already hear the KITKAT lovers rejoice at this announcement.
While the KITKAT McFlurry is available at both kiosks and our stores, the KITKAT Sundae is only available in kiosks at the moment. The KITKAT Frappe is available in the McDonald's stores. You can also share this festival with your friends, family and loved ones at home by ordering in from the McDelivery app or McDelivery website. Stay in touch with the McDonald's app for awesome offers and deals.