The festive season is eagerly anticipated and wished to last much longer! The air feels different, everyone's mood is jolly, and there is so much positivity around. It is an occasion for quality time with family and friends, and togetherness always calls for delicious food. And that is where McDonald's becomes a part of your celebrations, because McDonald's get-togethers are one-of-a-kind. McDonald's India (West & South) has planned something special for you so that the spirit of the festive season continues in full swing.
To make sure that every moment of your festivities is "lit," the McDonald's Drive-Thrus have been adorned with festive lights. This brightness is going to gleam till the New Year. Maybe you are on the road, on your way to visit loved ones, or, couldn't make it home for the celebrations this year, or, on a holiday trip with friends. The relatives have come over, and all the cousins want to catch-up on a fun, long drive with lots of jamming. There are so many situations that each one of us is in, and McDonald's wants to deliver not just a wholesome, warm, and delightful meal but also an experience with the same spirit. All you have to do is stop by a McDonald's Drive-Thru and make the festive season memorable with delicious McDonald's meals on-the-go.
The dazzle and shine of the decorations is more enjoyable when you pair them with a lovely meal. As you already know, there is a lot in store for everyone. Feel free to be nostalgic with the classics like the McAloo Tikki Burger, McVeggie Burger, and McChicken Burger. If you want to please your taste buds with something new, then the chef's special gourmet burger range is all yours. There is Triple Cheese Veg Burger, Triple Cheese Chicken Burger, McCheese Burger Veg, McCheese Burger Chicken, McSpicy Premium Veg Burger, and McSpicy Premium Chicken Burger. Add some Mexican Cheesy Fries and a yummy beverage to the mix and relish an awesome meal!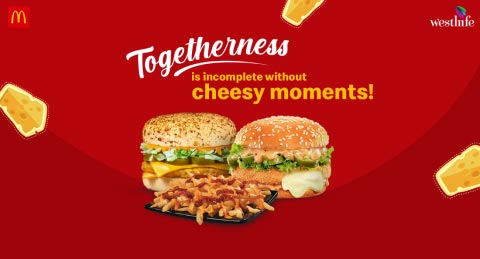 Let's continue the festive cheer and spread some good energy and positive vibes. Visit your closest McDonald's Drive-Thru for a brightly-lit dining experience. Be sure to explore the amazing McDonald's family meal deals and offers on the McDonald's app. You are always welcome to stay in the comfort of your home and order in from the McDelivery app or McDelivery website.