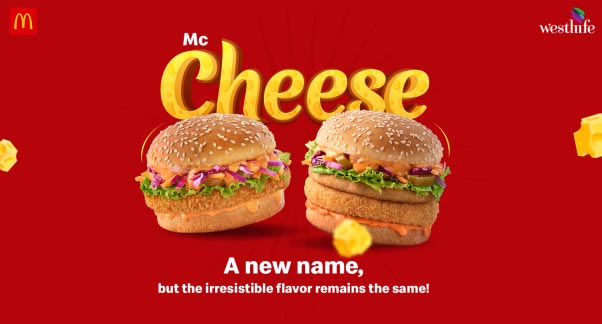 Haven't you heard? The festive season brings the news of the supremely cheese-filled burgers from the chef's special gourmet burgers being given a new name— *drum roll please* McCheese! Yes, that is right. They are not called Cheese Lava American Burgers anymore; they are McCheese Burger Veg and McCheese Burger Chicken! But don't you worry, the taste is just as amazing as it was. The creamy, melted cheese from the patty still oozes delightfully, and all the other elements of the burger work in perfect synergy, a feeling that makes you go "para-pa-pa"!
This gourmet burger-McCheese, with a chilly beverage and some fries on the side, is definitely a fulfilling meal, but there is something missing that is the key to making it even more wholesome. It is when you relish it with your family. Meals make families, and what better time to dine together than on the occasion of festivities? It is a chance for the cheese-lovers to go crazy, and the McCheese burgers are made for moments to be relished and cherished with the Fam Jam. The preparation for the celebrations will keep everyone at home busy and a little on the edge. Make their day by surprising them with the overload of deliciousness that McCheese offers. It is the perfect meal to catch-up on when all the cousins gather as well. The cheese-filled burgers are the ultimate pairing for all the cheesy, pun intended, dad jokes cracked at the table. It is a flavorful meal that is hard to resist. If you still don't believe it, this family isn't even blinking because of the thought that the rich, melted cheese is going to drip and be wasted. But the super cool grandma catches it in the nick of time, making it a victorious moment.
As you surely know, cheeseburgers are an all-time favorite all over the world, but cheeseburgers from McDonald's are definitely a class apart. Let's see what goes into crafting this scrumptiousness.
McCheese Burger Veg
Freshly toasted buns with roasted chipotle sauce, shredded onions, jalapenos, lettuce, and veg patty infused with lots of cheese.
McCheese Burger Chicken
Freshly toasted buns with roasted chipotle sauce, shredded onions, jalapenos, lettuce, and a veg patty infused with lots of cheese with flame grilled chicken patty.
If you haven't tried the McCheese Burgers yet, it is not too late. You and your family can catch exciting deals and offers in honor of the festivities on the McDonald's app. Be sure to enjoy the celebrations with the super yummy burgers at a McDonald's restaurant near you, or you can always order in from the McDelivery app or McDelivery website.