Hey there, how is it going with all the festivities? Cleaning? Check. New clothes? Check. Decorations? Check. Flowers? Check. Mithais? Check. Guests? Definitely check. It is a complete Diwali ritual, isn't it? This festival comes year after year, never missing a beat, but it is as exciting as it was, if not more! What exactly is it, though? It is the same routine that every household follows, but why is it so special and why is everyone so happy? The preparations are the same, the music is the same, the family is the same, the inquisitiveness of the elders about the teenagers' education is the same, the last minute efforts to glam up are the same. Think about it. Perhaps the fact that this beautiful festival graces us each year, ensuring these happy and comforting moments, makes it a very special and very happy Diwali. There is only one more thing left to up the special-meter. It is everyone's favorite McDonald's! Meals, as we all know, make families, and what better time than Diwali to enjoy family mealtime? Take a look at these slice-of-life moments from Rishab's home that are bustling with the celebrations and also with McDonald's!
Meals make families, and festivals also make families, and it is the ideal occasion to unite the two. McDonald's has always been a celebrated platform for moments with family, so don't let this occasion be an exception. There is so much in store for everyone to enjoy, especially with the irresistible McDonald's menu deals! There are wholesome, chef's special gourmet burgers to ravish after a long day of fun and frolic. The McDonald's snackables are all yours to keep your hunger at bay throughout the busy day. If the celebrations are getting too chaotic for you, take a chill pill with McDonald's shakes and chillers. It will be fun to try the new NESTLE KITKAT range of special treats with all your cousins. And, end the gala time on a high note with beyond yummy McDonald's desserts! Can't seem to make it to the restaurant? Not to worry, you can relish these treats with your cherished family from your home, and we have something else planned for you. Your meals will be delivered in a Diwali-themed package, so that there is never a dull moment during the festivities!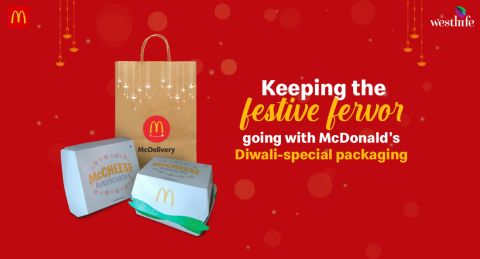 We hope you make many, many memories and have a wonderful time with love, light, and lots of happiness. Visit your closest McDonald's outlet with your loved ones and enjoy an amazing meal. Or, order it in from the McDelivery app or McDelivery website. Do explore the McDonald's value menu on the McDonald's app as well.
Happy Diwali!