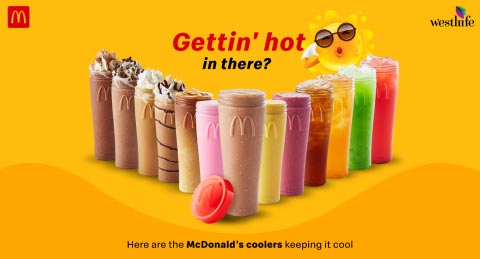 Don't you feel angsty when it is particularly hot? And it's not just you, everyone around you seems to be feeling the same. Whether you are at work completing an important assignment, at college trying to meet deadlines, or even staying home, the heat can make you quite hot-headed. Well, a chilled beverage at such a time can feel like a much-needed breather. McDonald's coolers like strawberry, lemon, green apple, mango—so many choices to help cool you down.
Sometimes, it is not just during the hot or humid climate outside that McDonald's shakes and coolers come to your rescue. When you didn't do well on a test when you need to patch things up with your friend, when you want to recover from a sad movie you just watched, or when you are feeling drowsy during the lunch break. During these low or edgy moments, one needs something full of zing to wake up, and that is when McDonald's ice coolers come into play.
Sugar is the perfect companion for every mood, and here is McCafé serving you a much-needed dose of sweetness! It can be rich, thick, creamy, dreamy, and frothy. Take your pick from these flavorful summer coolers!
Berry Lemonade Splash Regular
Replenish with a drink infused with blueberry and strawberry flavors.
Strawberry Shake
A creamy and delightful blend of vanilla soft serve and strawberry flavor.
Strawberry Chiller
A refreshing chiller infused with strawberry flavor and aromatic teas
Lemon Chiller
A chilly, refreshing blend of aromatic teas and lemon flavor.
Green Apple Chiller
Aromatic teas, infused with green apple flavor, blend to perfection.
American Mud Pie
A milk and chocolate makeover to a classic American Mud Pie with a dollop of cream.
Mixed Berry Smoothie
A perfect blend of mixed berries with a creamy soft serve.
McCafé Chocolate Frappe
Chocolate sauce and Oreo cookie pieces blended with ice and garnished with whipped cream.
McCafé Mocha Frappe
A skillful blend of rich mocha sauce and the signature soft serve for a refreshing coffee beverage.
McCafé-Ice Coffee
An icy treat of McDonald's signature espresso and soft serve.
McCafé Iced Americano
A refreshing blend of espresso mixed with ice.
Take a chill pill and unwind with these yummy shakes and coolers from McDonald's. Slurp and sip on them to beat the heat, cool the fire set by a spicy gourmet burger, or allow these chillers to slowly wash away the stress of a tiresome day of shopping. Enjoy the McCafé magic whenever and however you want. Find them in value meals on the McDonald's app. Satiate your cravings for chilly and flavorful drinks at a McDonald's outlet near you or order from the McDelivery app or McDelivery website in convenient and delivery-friendly EZ reusable delivery bottles.