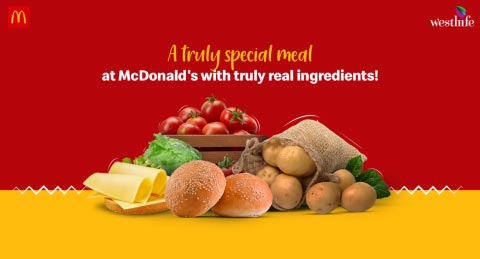 McDonald's is loved and well known far and wide. It is the ambience, the aroma, the service, the happy moments that are created, the ultimate hangout spot for all. Is anything missing from that list? Well, of course, it is the food! Isn't it too yummy to be forgotten? McDonald's has defined the QSR game in India, but what makes it stand out and stand tall from the rest?
Each morsel of food made at McDonald's has three secret ingredients and their secret quantities as well. Quiet down please, the beans are about to be spilt… they are: zero artificial colors, zero artificial flavors, and zero preservatives. McDonald's goes out of its way to source the best and freshest of ingredients to make each bite you devour wholesome! McDonald's items without preservatives, artificial colors and flavors are making mindful indulgences. You will be surprised to know that some of your favorites like the McDonald's Fries, Burger patties, McSpicy Fried Chicken, Chicken Nuggets, Chicken Strips, Hashbrowns, and Hotcakes are actually preservatives free.
The top-notch quality of the ingredients add to the experience of each meal. From the tiny tots to the cool-cat grandparents, it is absolutely safe and ready to be savored by everyone. Allergen and Nutritional information are at everyone's disposal at the store as well as on the McDelivery app so that you are fully aware of the McDonald's meal you consume.
The farmlands and state-of-the-art facilities in India provide close to 97% of the ingredients that go into the making of the McDonald's India menu. Let's take a look at the different parts of the country that contribute to your meal, keeping it safe with no added preservatives. Both regular and whole wheat buns come from Maharashtra. The jalapenos that are topped on so many burgers come from Karnataka. The potatoes that we love so much come from Gujarat. Tomatoes rich in color and nutrition are provided by the fields of western India. Ooty, Lahaul & Spiti, and Nashik are where the lettuce, a must-have in many burgers, is grown and sourced from. The Baramati area of Maharashtra supplies the cheese, which gives your burgers, nuggets and the likes, a cheesy creamy kick.
Find fresh, healthy, and delicious value meals on the McDonald's app that you will surely be 'Lovin It'. Avail amazing deals and offers from the McDelivery app and McDelivery website or step into a McDonald's restaurant near you. Go ahead and choose real food that is real good. Happy Eating!