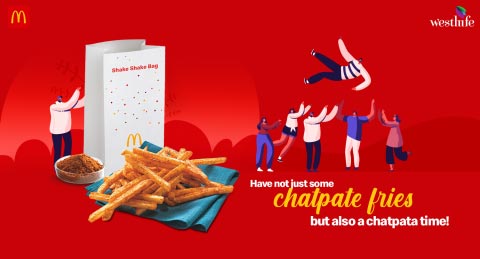 Aren't there those days when you crave something intensely and you are irritated because the flavors don't feel on point? It has been a bland day or you are moody and really need things to jazz up. Maybe you want to end your boring meal on a yummy note. Or, perhaps you are simply looking for a tasty tea time snack. In that case, if you haven't already heard, the McDonald's flavors are here to do just that. The Chatpata Spice Mix and Piri Piri Spice Mix from McDonald's with a good shake can make sure that there isn't a single dull moment! It is your world-famous fries coated with flavors that tease. Masalas are rooted in the essence of being Indian, and there is no way we can do without them!
More flavors mean more celebration, and that is always welcome at the table, isn't it? It need not be a massive occasion; even a little time spent at the table in McDonald's huddled together in conversation and breaking into laughter every few seconds also counts for moments of celebration. The chatpata mix and piri piri masala at McDonald's create some tongue-clicking chatpata time. Give it a go and you will see that it can totally spice up any topic! All you need is a bag of fries and your masaledar mix!
You've probably heard of the #ShakeShakeDrill. But have you ever tried it? Well, what are you waiting for? Sure, there is a lot of swirling and shaking, but it is fun, tasty, and totally worth it! If you are still not motivated enough, here is something else. Upload a #ShakeShakeDrill with 10 of your friends and you will be DM-ed a code that unlocks a whole lot of fries! If you don't know the moves, not to worry. Here's where you can learn them: https://www.instagram.com/reels/audio/2059689967544137
Make your way to a McDonald's outlet near you for a chatpata time. Do stay in touch with the McDonald's app for some mast masaledar value meals and deals. If you like a comfortable and cozy stay-at-home shake shake fun, then get your fries home delivered from the McDelivery app or the McDelivery website.