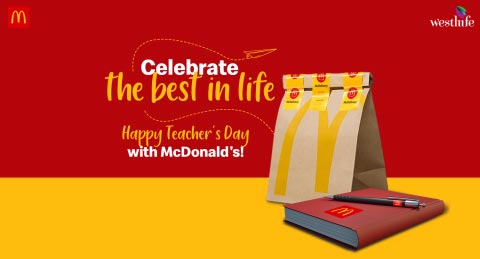 Question: How does oil float in water?
Question: What does one do to remember formulas?
Question: How does one make this?
Question: Is there a way to remember theorems?
And well, for all the other countless questions teachers have helped us find answers to, leave alone what is found between the pages of books, but also life lessons that are unforgettable. Here's to all of you: Happy Teacher's Day! It's true, what would the world do without teachers?! While some of them help to kickstart life, others remain a part of it through the lessons shared. And yes, fondly remembered ever after.
Special days, special people: calls for a special celebration. How does the idea of McDonald's Treats sound? Mouth-watering, isn't it?
So, how would you plan a McDonald's meal for such a day? Something to munch on like the McDonald's Classic Fries, Wedges, Chicken Nuggets, the latest Chatpata Mix and Fries, or something else while the thank you's float in the air. Or wholesome and indulgent burgers as the moments get chatty? Or would you rather prefer sharing their favorite McDonald's desserts like the Strawberry Shake, Soft Serve Hot Fudge, McFlurry Oreo, or something more? We're ready with the McDonald's offer code and McDonald's promo code to make it even more special for you.
There are coupons for McDonald's treats that you can find on the McDonald's App. Get the McDonald's offer code or the McDonald's promo code and more, to make life's moments even more joyful. Download the McDelivery app or visit the McDelivery website to order their favorites from McDonald's, or you could make it to the nearest McDonald's restaurant to celebrate this occasion. Wish you happy and memorable moments!