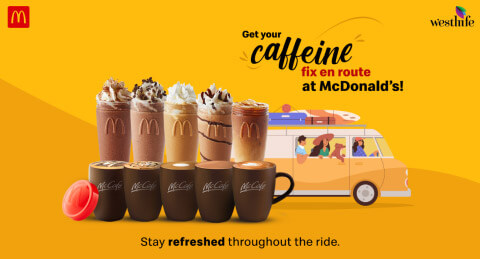 It's still dawn outside. The engine revs, you do a quick mental check of everything packed in the trunk, and you're all set to start. The playlist is decided, and the trip itinerary is almost in order. Isn't it the best feeling, the beginning of the journey, with so many possibilities of experiences and moments waiting to become memorable? Although soon you might feel your eyes shutting, after all, it's still quite early in the morning. You know what really, really wakes you up? It's coffee, right? It's literally the best way to start your day! Since you already had an early start and maybe even a hasty morning, you probably didn't get a chance to get your caffeine fix. But, not to worry at all. For moments that require a piping cup of well-made coffee, McDonald's McCafé coffee menu is at your service!
Did you know there are about 267 McDonald's restaurants with McCafe (as on June 2022) in the south and west of India? It would be impossible to not spot a McDonald's store on your way! Your vehicle needs refueling, and in many ways, so do you. You need to stop, stretch, straighten your posture, and what better place to take a refreshing break than at McDonald's McCafé?
Let's check out some coffee varieties made by our awesome baristas! Just holding a hot cup of caffeine feels good, how good would it be to drink it?
McCafé Americano (S)
Made with the signature McCafé espresso and hot water. Enjoy it with Double Cheese McMuffin.
Cappuccino (S)
A warm shot of espresso made with 100% Arabica beans and thick, frothy milk. Vanilla Chocolate Muffin will pair well with it!
Latte (S)
McCafé espresso topped with 100% real, steamed, and frothed milk. Try it with the chocolatey goodness of a Chocolate Chip Muffin.
Flat White
The McCafé espresso is made with 100% Arabica beans and 100% real, steamed, and slightly frothed milk. Pair it with a Banana Walnut Cake.
Beat the afternoon heat and drowsiness with chilled caffeine! Have a Chocolate Express Cake or a Blueberry Cheese Cake on the side.
McCafé Iced Americano
A perfect espresso shot blended with ice.
McCafé-Ice Coffee
A delightful combination of McCafé's signature espresso and soft serve.
For the young travelers on board!
Hot Chocolate (S)
Chocolate is deliciously whisked with steamed milk and topped with a much sweeter touch of chocolate.
Small breaks in long travel are really great to relax and also stay refreshed. Visit the McDonald's outlets on your way to grab a quick bite. If you're running late, then you can opt for takeaways and snack on the road. Do check out the McDonald's app. There are always exciting deals you can avail. If where you're staying doesn't have good food, the McDelivery app and McDelivery website are at your service!
Bon Voyage!