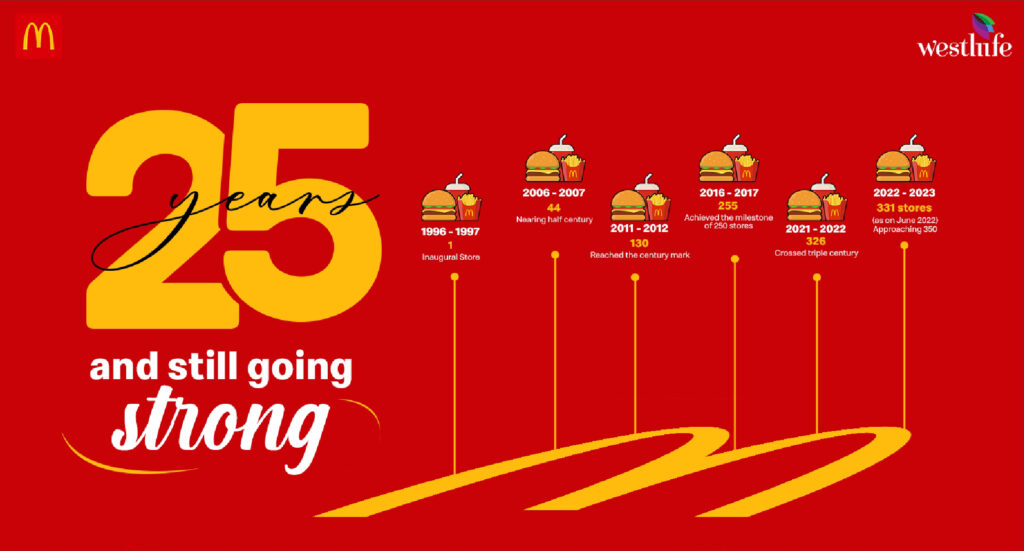 Here is a little exercise for you. Imagine a large group of friends laughing their heart out and enjoying a hearty meal. Imagine a birthday party with lots of decorations and snacks. Imagine a nervous, awkward first date. Imagine a family, any kind of family—parents, children, aunts, uncles, and grandparents. Now imagine all of this taking place all at once, and that would be a regular day at McDonald's India. There is food, fun, and a guaranteed fabulous time! Did you happen to wonder how easily this picture was painted in your mind and how easily you were able to associate it with McDonald's?
Perhaps it's because you have seen so much of McDonald's and McDonald's has seen so much of you! This chain of restaurants has been quite instrumental in not just changing the game of Quick Service Restaurants) QSR industry, but actually creating one. The concept of burgers, fries, and even having a designated hangout spot for friends and family has become part of day-to-day activities. The western aspects of the menu attract the younger lot, while the Indian-themed items make it palatable to the elderly, and who can forget, the Happy Meals have their own fanbase of tiny tots! The team is always vigilant and happy to help, making sure that the McDonald's customer service is the very best.
Let's take you for a McDonald's tour across the years!
1996 marks the inaugural year for Ronald McDonald to take a seat at his bench!
In 10 years, between 2006-2007, Ronald entertained customers with his big, red smile in 44 McDonald's stores!
Everyone remembers 2011 for India's epic win at the World Cup, but here at McDonald's, the years 2011- 2012 saw the dine-ins cross a century with 130 stores!
In 2016- 2017, the numbers have almost doubled, with over 255 McDonald's restaurants reigning the region!
In the post-pandemic, present day scenario, the figures have crossed another century and Ronald is smiling bright and posing away with many, many customers at 331 outlets (as on June 2022). It is estimated that the count *fingers crossed* will soon approach 350!
One can owe this marvellous McDonald's growth to the excellent chefs, the trendy menu, the uplifting ambience via Experience of the Future (EOTF) stores, and the wholesome meals. But the fact that it has been loved and cherished by so many has made it a leading QSR chain. Let's look forward to making it even larger! Don't miss out on the McDonald's app for amazing deals and value meals. Keep visiting the McDonald's restaurants or enjoy the delicious experience at home by ordering in from the McDelivery app or McDelivery website.